Fortnite Resorts to Handing Out Shout Outs for Prizes as Pro Players Call Epic Games Out for the Declining Competitive Scene
Published 01/12/2021, 9:38 AM EST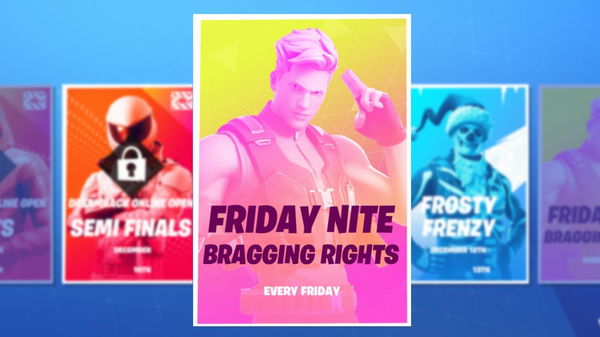 Epic Games recently introduced the 'Friday Nite Bragging Rights' tournament to its Battle Royale game Fortnite and players aren't happy. Instead of cash prizes, winners of the weekly tournament get a shout out on the FNCompetitive Twitter account. What a dreadful reward for all that grind? Fortnite pros agree.
Not only has Epic Games resorted to shout outs as prizes but has also reduced the pool of tournaments that do have cash prizes. The Fortnite Cash Cup now has a prize of $1800 for the first-place team from NA East. For a team of three, that is $600 per player.
ADVERTISEMENT
Article continues below this ad
The pandemic has hit the gaming community hard. The absence of LAN events and sponsorships has led to fewer tournaments and lesser prizes as well. However, the new tournaments prove that Fortnite competitive tournaments are in a dismal state. The latest prizes have invited plenty of hilarious memes from pro players and fans.
Pros meme Epic Games for low Fortnite prizes
Naturally, the people most upset by such paltry prizes are those who make a living out it. Therefore, Twitter is full of disgruntled professional Fortnite players who are resorting to memes to express their disappointment. XL Wolfiez pointed out the drop in the prize pools of the Battle Royale game in the last couple of years.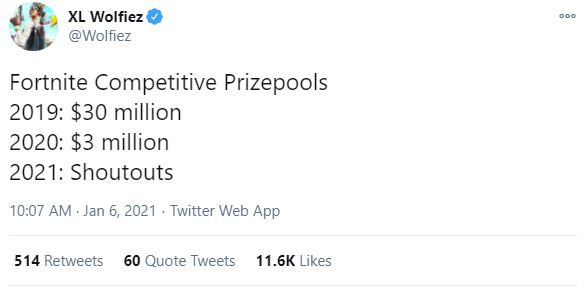 Second-place Squads winner of the FNCS also recently shared a mock prize pool announcement for the upcoming edition of the tournament. According to TSM MackWood's meme, the first place winner in the FNCS would get a meager sum of $900. Moreover, other bizarre prizes include gift cards from popular food chains.
ADVERTISEMENT
Article continues below this ad
Benjyfishy also highlighted how the last few months have seen the lowest number of Fortnite tournaments with the lowest amount of prize money. He also added how this is the lowest point of the game and how it is lacking in fun. Therefore, without good enough prizes to incentivize players, Epic could see a lot of pro players jump ship.
ADVERTISEMENT
Article continues below this ad
Epic Games could use more partnerships at this point to drive up the investments in prize pools. It could also go ahead with something like Dota 2 crowdfunding, which helps Valve manage millions for prize money. As long as Epic considers shout outs as the prize, it is only going to disappoint its players.