Fortnite Season 6 Item Shop March 2021: New Dua Lipa and DaBaby Emotes Now Available
Published 03/22/2021, 12:26 PM EDT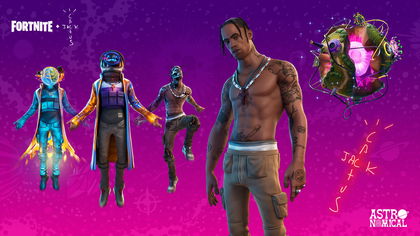 ---
---
Fortnite recently added two new DaBaby themed emotes in the store. Called the 'Jabba Switchway' and 'Go Mufasa', the emotes are available for 500 V-bucks each. Epic Games began its strategy to bring musicians into the game in 2017. In the past, the studio has collaborated with musicians like Marshmello, Travis Scott, and Major Lazer.
ADVERTISEMENT
Article continues below this ad
Marshmello and Travis even got the luxury of hosting their own in-game concerts. Marshmello's concert and Travis Scott's 'Astronomical' event bought a reported 10.7 million and  12.3 million eyes to the game, respectively. Thus, it is no surprise Epic jumps at every chance to introduce fan-favorite music-themed items into the battle royale.
ADVERTISEMENT
Article continues below this ad
The two emotes feature dance moves from DaBaby's song BOP on broadway. Fortnite has begun introducing more and more music artist-themed emotes as the Grammys draw closer.
In addition to BOP, the list includes emotes inspired by DaBaby's "Rockstar," Doja Cat's "Say So," Dua Lipa's "Don't Start Now" and Megan Thee Stallion's "Savage," all of which were nominated for record of the year, among other individual honors.
How does Fortnite create artist emotes?
Nate Nanzer, who is responsible for the eSports scene in Fortnite, explained, "These songs have been really celebrated in 2020, and we wanted to again highlight these awesome dances."
Speaking further on Epic's strategy to merge the world of social media with that of Fortnite, Nanzer said, "We were looking at, 'What are other cool ways that we can bring music into the game.
"Dancing is an obvious one, and combined with the emergence of TikTok and Dubsmash and these platforms where dancing was the focus, we [realized we] can start to bring some of these things that are trending in culture into our game."
ADVERTISEMENT
Article continues below this ad
Although this concept is a brilliant one, it is certainly not cheap. Epic has to acquire music licenses from respective rights holders before it can attach an audio clip to the emote. Furthermore, Epic pays a direct fee to the creator of each TikTok dance used in an emote, and credits that person in the emote's Item Shop listing.
Will you purchase the new DaBaby emotes? Which artist would you like to see in the world of Fortnite next? Let us know in the comments down below.
ADVERTISEMENT
Article continues below this ad