Fortnite: What Secrets Does The Vault Hold Within?
Published 03/24/2021, 2:34 PM EDT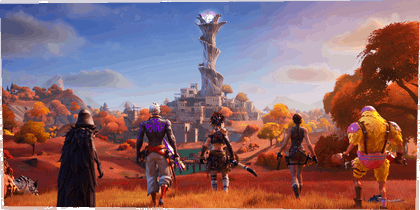 ---
---
Fortnite has always been a forerunner in terms of adding new intriguing content into the game. In the last season, we saw a plethora of collaborations and the addition of NPCs. Prior to that, we had the Marvel-themed season, which was a major success. This current season in Fortnite has been nothing but great so far, and players have already stumbled upon what might be a major point of interest.
ADVERTISEMENT
Article continues below this ad
Fortnite has an episodic storyline that builds slowly over the course of the seasons. Usually, the movements in the stories can be tracked by the addition of new Easter eggs and POIs throughout a particular season. One such noteable instance was the gradual surfacing of Galactus that players witnessed during the Marvel-themed season.
Similarly, this season has wasted no time in building up the usual amount of intrigue with the mysterious vault. The iconic Fortnite pro and content creator, SypherPK, recently spoke about this vault in one of his videos. The pro saw a lot of other players and content creators make videos on this location, and he wanted to give this a shot himself.
ADVERTISEMENT
Article continues below this ad
Fu5rther reading: Zhongli, Xiao, or Hu-Tao? Who Brought In the Most Money as Genshin Impact Hits $1 Billion in Revenue?
Fortnite Chapter 2 Season 6 has a mysterious vault that seems impossible to open
ADVERTISEMENT
Article continues below this ad
In order to get to this vault, you will have to drop at the Weather Station. Now, keep in mind that the Weather Station currently plays home to a new NPC in the game, known as Zenith. However, defeating Zenith before you head down to snoop around the vault does have some advantages.
Firstly, killing this NPC drops a sweet SCAR assault rifle. Secondly, defeating this NPC means you will not have to deal with him snooping around after you, which is obviously undesired.
At the foot of Mount Kay, you will find a bunker. Interestingly enough, players will encounter a butterfly here, exactly like what Agent Jonesy became at the Zero Point finale. This butterfly will guide you to a door, and behind it, you will see the vault. Now the vault is already slightly ajar and you can hardly see what is inside of it. However, blasting the available barrels will open it up a little more, but that is about it.
ADVERTISEMENT
Article continues below this ad
This opens up a lot of room for speculations regarding this vault. We believe that this will weave into the storyline of this season as it progresses. What do you think?