Fortnite Wild Week 2: Make Way for Fish Fiesta
Published 05/13/2021, 1:00 PM EDT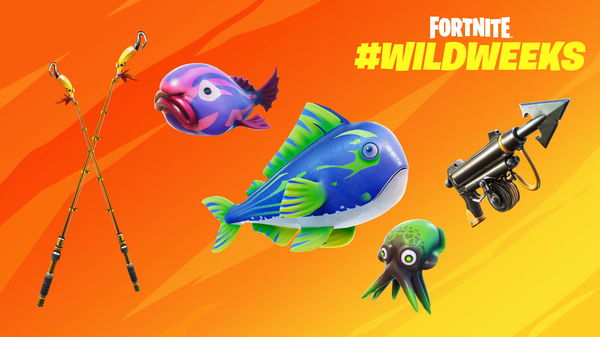 ---
---
The current season in Fortnite has turned out to be more fun than the fans expected. Initially, Chapter 2 Season 6 received quite a bit of backlash from fans because of the state of competitive gameplay and apparent lack of exciting new content. However, Epic Games was soon to step up with a host of new crossovers and collaborations. In addition to this, Epic released a number of update patches to fix some of the most persistent issues in the game that have been plaguing the competitive community. Not to mention the much-anticipated Batman x Fortnite event going live in the game.
ADVERTISEMENT
Article continues below this ad
Just when the community thought Fortnite couldn't get more fun this season, Epic games introduced Wild Weeks. This gameplay mode kicked off on May 6 and is currently on its second week. Here is how Fortnite Wild Weeks works. Every week, the game will focus on one unique gameplay dynamic. For instance, the first Wild Week focused on every item and weapon dealing with fire.
ADVERTISEMENT
Article continues below this ad
As the official blog post put it,
"Fireflies and Flame Bows will heat up the action with their greater availability, and the Flare Gun from Chapter 2 Season 3 has made a rekindled return… Additionally, fire will deal more damage and spread faster than before."
ADVERTISEMENT
Article continues below this ad
During Week 2 of this event, things have got fishier. To extinguish the heat that arose with Week 1, Wild Week 2 will be focusing on more waterborne elements.
Further reading: Insomniac Looking to Push PlayStation 5 Hardware Further After Impressing With Brilliant Ratchet & Clank Performance
Things have got fishier with Fortnite Wild Week 2
ADVERTISEMENT
Article continues below this ad
Week 2, or Fish Fiesta, will be dealing not only with fish and floppers, but submerged weapons as well. Furthermore, fishing spots in the game will be active for longer than usual. In addition to this, players will have a higher chance of getting rare fish from the fishing spots. Catching these fish has become easier as the Pro Fishing Rods have increased in abundance. These favorable conditions will further aid you in this week's Legendary Quest from Turk.
Remember that these conditions are only here to stay for a week, i.e. until the 20th of May. However, given what we have seen in the past week, Week 3 is something to look forward to!
Trending Stories