France keen to show pride against England at Wembley
Published 11/16/2015, 4:30 PM EST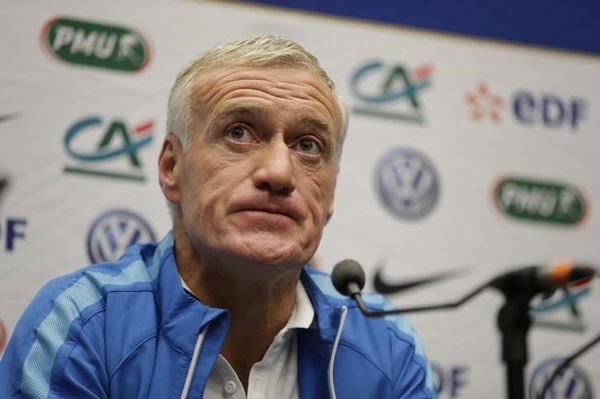 ---
---
LONDON (Reuters) – France will be keen to represent their colours with more pride than ever when they take the field in a friendly against England at Wembley four days after the deadly attacks in Paris, coach Dider Deschamps said on Monday.
ADVERTISEMENT
Article continues below this ad
The decision to play the highly emotional game was taken on Saturday morning by French federation president Noel Le Graet and Deschamps.
"We are here now to take the field to represent our country probably with even more pride than we normally would and to make sure that our colours, blue, white, and red, will be represented with more pride," Deschamps told a news conference at Wembley on the eve of the game.
ADVERTISEMENT
Article continues below this ad
"It will be much more than a sports event. We are here to represent our country and show that we are proud to be French in a historical stadium and I want to thank the English fans for their messages of solidarity.
"It will be an emotional game."
Les Bleus were playing Germany at the Stade de France on Friday when three explosions were heard outside the stadium as suicide bombers blew themselves up, killing one.
In central Paris, gunmen attacked bars, restaurants and a concert hall killing an additional 128 in the worst atrocity in France since World War II.
"We were focused on our game on Friday," said Deschamps. "We were told what happened at the end of the match."
Players and staff stayed inside the stadium with their German counterparts until late in the night before they decided the England friendly should go ahead as scheduled.
GREAT MOMENT
"To play or not to play we had doubts but the situation was well managed by the coach and the president," said captain and goalkeeper Hugo Lloris.
"It will be a great moment of solidarity. The last three days have been traumatic. We mourned, together."
ADVERTISEMENT
Article continues below this ad
Before the news conference, British reporters laid flowers with a note saying "Vive la France", one of many signs of solidarity that have been made all over the world.
Wembley fans have been urged to sing the French national anthem, with a few British newspapers printing the lyrics of the French national anthem, La Marseillaise.
"La Marseillaise sung by the English will make the moment even greater," said Lloris, who plays in England for Tottenham Hotspur.
ADVERTISEMENT
Article continues below this ad
"We are very moved by all the messages of support in England and indeed across the world. Tomorrow, representing France as a nation will be more important than merely representing French football."
(Writing by Julien Pretot in Paris; Editing by Ken Ferris)