From Michael Schumacher to Lewis Hamilton, Drivers Who've Suffered the Most Embarrassing F1 Crashes
Published 01/04/2020, 7:56 AM EST
By

Follow Us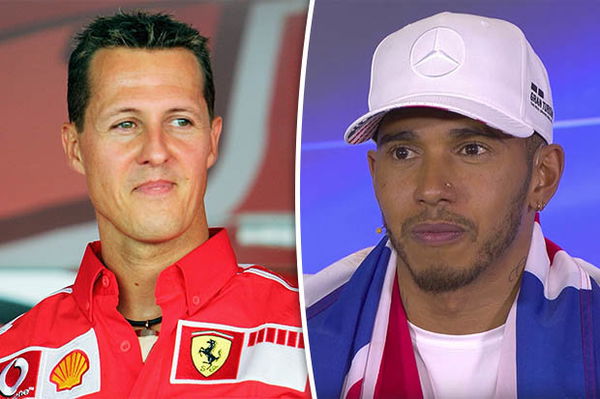 The thrill of watching a Formula 1 race is unparalleled. The sheer speed of the F1 beasts, coupled with breathtaking overtakes and swift pit-stops make for a very interesting watch. However, with massive speed comes heavy crashes.
America's Favorite Video Today
Often times, drivers lose control of their car and are unable to correct it, careering into the barriers or into their fellow drivers, ending races and in some unfortunate incidents, lives too.
However, some crashes are caused purely by the uncompetitive nature of the driver or car. The inability to make split-second decisions can catch a driver out quickly in F1 and he has to have 100% concentration when manoeuvring around those cars.
ADVERTISEMENT
Article continues below this ad
They are not always successful in that endeavour and that has resulted in some hilarious crashes over the years in F1 which have looked amateurish and not worthy of an F1 event. Here, we list some of the most embarrassing crashes to take place over the years:
#1 Nick Heidfeld, Brazil 2002
German Nick Heidfeld was a constant fixture in the F1 circuit until 2009 after which his career fizzled out. He has driven for multiple teams like Prost, Jordan, Sauber, Williams and Renault. He was a fast driver though he could never convert that into wins or regular podiums.
However, his most embarrassing moment came in the 2002 Brazilian Grand Prix. Heidfeld was in his fourth year in F1 and was driving for the Sauber team. In a practice session ahead of the main event, Enrique Bernoldi crashed his Arrows car into the barrier and had to be tended to by the medics.
Get instantly notified of the hottest F1 stories via Google! Click on Follow Us and Tap the Blue Star.

Follow Us
The medical car was parked on the side, but the drivers coming into the turn were unsighted. Schumacher's Ferrari veered away at the last moment but Heidfeld was not so lucky. He turned in quickly but on seeing the medical car, realised he did not have enough time to go around it.
So instead he decided to pass it from the other side, where the medical car driver, Alex Ribeiro had just opened his door. Heidfeld crashed into the door of the safety car and stopped a few metres ahead, bewildered at how the whole thing panned out.
Fortunately, none of the people involved were hurt but one shudders to think what would have happened if Ribeiro had stepped out of his car a second earlier than he actually did.
#2 Michael Schumacher and Christijan Albers, China 2005
Once again, an embarrassing accident occurred in the warm-up lap prior to the main Grand Prix event. This time, however, the scene for the crash was the Shanghai International Circuit in China.
Albers was driving for Minardi and was in his rookie season in F1. Schumacher of course was with Ferrari and had already won all his seven world championships. Both had started a practice lap to get a feel for track temperatures and getting the pressure on their tyres just right for the race.
Schumacher had traffic ahead of him as he started and so, as soon as he reached an empty section of the track, started weaving to get his tyres and brakes warmed up and all ready to go. What he failed to see was Albers approaching him from behind in the Minardi.
Albers failed to slow down in time and collided with the Ferrari of Schumacher, damaging its rear tyre and blackening the chassis. It forced Schumacher to limp back to the pits in the faint hopes that it would be repaired. Albers had no such problems but went to his garage nonetheless.
As it turned out, both drivers had to race in their spare cars and had to start the race from the pit lane. It capped off a miserable season for Schumacher as he finished third in the championship as new rival, Alonso took his first world championship with Raikkonen finishing second.
#3 Lewis Hamilton, Canada 2008
Lewis Hamilton may be one of the fastest drivers and a four-time world champion today, but back in 2008, he was essentially a rookie who was just in his second season in F1 with McLaren.
His first season in 2007 almost resulted in him winning the championship but a calamity of errors in the final two races prevented him from winning. He did win the title in 2008 in dramatic circumstances but another incident took place in 2008 which was probably very embarrassing for the budding champion.
Hamilton had fond memories of Canada as he had won his first F1 race there in 2007. But 2008 proved to be a not-so-sweet memory for him. He qualified on pole followed by Kubica and Raikkonen. Those three remained in their positions for a majority of the race on Sunday but when Sutil's car caught fire, the safety car was brought out.
All three dived into the pits at the same time, but Raikkonen emerged ahead after the stop. As he stopped at the red light at the end of the pitlane, accompanied by Kubica, Hamilton ploughed into the back of Raikkonen's Ferrari, seemingly unaware of the red light. Rosberg further compounded the problem when he went into the back of Hamilton's car.
With both his main rivals eliminated in one go, Robert Kubica took full advantage to score his only F1 victory till date and lead the drivers' standings at the end of it.
#4 Nelson Piquet, Singapore 2008
This incident has to be one of the most embarrassing, not only on this list but also in the history of F1. Singapore was a new venue back then and it was the inaugural race at Marina Bay. The street circuit had it own challenges with the Turn 10 chicane proving to be especially notorious.
Renault's driver line-up was Fernando Alonso and Nelson Piquet Jr. One was a world champion while the other was the son of an F1 title winner. Yet, Renault had the audacity to plan something which would have a magnanimous impact on their reputation and cause a disgrace to the sport.
Felipe Massa qualified on pole and the Renault cars started back in 15 and 16 place. Alonso started on a light fuel load, so he stopped early on lap 12, switched tyres and rejoined at the back. On lap 14, his teammate Nelson Piquet Jr. lost control of his car and went into the barriers at Turn 17. He attributed the crash to hard tyres and a safety car was brought out.
Alonso, who had already pitted claimed the lead as the others went in and eventually won the race in his unfancied Renault after starting 15 on the grid. Nothing was thought of this incident until an year later when Piquet left Renault.
He made allegations that Renault manager Flavio Briatore and engineer, Pat Symonds of deliberately asking him to choose a corner and crash the car, to enable Alonso to clinch victory. Initially, Renault said they would be contesting the charges but Briatore and Symonds left the team, leaving their reputation in tatters. Alonso was cleared of any wrongdoing as he was seemingly unaware of any such strategy.
#5 Pastor Maldonado, China 2014
Pastor Maldonado stunned everyone at the Spanish Grand Prix in 2012 when he put his inferior Williams on second place in qualifying. There was even more astonishment as on race day, he executed his pit-stop strategy to perfection to beat home-hero Alonso and score his only F1 win to date.
That was arguably the highest point of his error-strewn career. Maldonado returned to his ways immediately after, evaporating any hopes of him becoming a title-contending driver. His inadvertent crashes into other drivers earned him the moniker of the 'Crashtor', which he termed unlucky later on.
However, this incident did not occur with Maldonado knocking out any other driver. He spun, hit the barrier and damaged only his own car, the Lotus this time. In the previous race in Bahrain, Maldonado had turned into Esteban Gutierrez's Sauber, which caused it to somersault before coming to a halt. It was a heart-in-the-mouth moment for the Mexican youngster.
The stewards handed Maldonado a penalty for the next race in China, so he already started on the back foot. But he was to further compound his problems. In the second Free Practice session, Maldonado completed a lap around the circuit and was coming into the pits. He locked up before the turn in and went onto the gravel, sliding across to hit the wall and break his front suspension and dislodge the tyre.
He had earlier spun his Lotus while searching for a button on the steering wheel and looked mighty short of confidence. He failed to qualify but was allowed to race and finished in 14 place, somewhat salvaging an embarrassing weekend.
#6 Marcus Ericsson, Monaco 2017
Marcus Ericsson was seen as a talented Swedish driver when he came into the F1 fray in 2014, driving for Caterham. He was seen as the next big thing to come out of Sweden after Stefan Johansson.
Safe to say, all those expectations have now dried up. After 3 years in F1, Ericsson has failed to impress anyone, somehow keeping his seat for the 2018 season despite his then Sauber teammate, Pascal Wehrlein being the more enterprising driver and also the one who had scored some points for the Sauber team.
Ericsson's crowning moment came last year in the Monaco Grand Prix. He had a five-place grid penalty for a gearbox change but it did not matter as he qualified last. It seemed like the race would be a rather dull affair for him, considering Monaco's narrow streets.
But the embarrassment was yet to come. Teammate Wehrlein was launched by a returning Jenson Button, which brought out a safety car. Ericsson, who was already a lap down was following the safety car when he got the radio message that he could unlap himself. The Safety Car slowed down into Turn 1, allowing the Swede to go past.
But Ericsson did not do so, instead going into the wall, extending the Safety Car period. He later blamed the accident on overheating of the brakes, but that crash was inexcusable nonetheless. Skip to 3:41 in the video to watch his crash.
#7 Sebastien Vettel and Lance Stroll, Malaysia 2017
This has got to down as one of the most bizarre incidents to take place in F1 in recent times. The clash between drivers is a normal occurrence what makes this stand apart from the rest is that it occurred after the race ended. On the cool-down lap, Vettel passed Stroll but found himself with a broken rear tyre.
The Asian leg of the F1 season had started off on a disastrous note for Ferrari. In the previous race in Singapore, Raikkonen and Vettel had both retired after a collision amongst themselves, ending up with no points when they could have potentially dominated the podium. The issues got worse at the last race in Sepang, Malaysia.
Vettel's car had mechanical issues which meant that he could not set a qualifying lap and started last. On the other hand, teammate Raikkonen qualified second behind Lewis Hamilton, showing the incredible pace Ferrari possessed. But Raikkonen's car could not start the race with another engine problem.
Vettel charged through the pack on race day. Starting on the soft tyres, he left the midfield runners in his wake, perfectly timing his overtakes on them to reach a very respectable fourth position. He started catching Ricciardo in front for a potential podium but his tyres were badly worn out and he had to back out and settle for fourth.
Post the race, Vettel was going around thanking his fans and in the process passed the Williams of Stroll. But the Canadian was not paying attention and they collided, with Vettel having a suspected damaged gear-box. He had to abandon his car and famously hitched a ride with countryman Pascal Wehrlein on his Sauber, back to the pits.
#8 Romain Grosjean, Baku 2018
ADVERTISEMENT
Article continues below this ad
This one will remain fresh in the memory of F1 fans worldwide. It happened at the Azerbaijan street circuit and we can all agree that it was pretty embarrassing for Haas' French driver, Romain Grosjean.
Grosjean had proved to be quite reliable in his two years with the newly-formed American team, helping them develop their car and turning them into solid midfield runners. He finished in eighth on their F1 debut and was jubilant on the team radio. Considering that they are in their third year, Haas should have stepped up their game and gone for the title of 'best of the rest'.
They have developed a car to the best of their ability but the driver compliance has not come yet. More precisely, Grosjean has been the one committing the errors which has denied them many points. The most embarrassing of them all was the crash in Baku.
ADVERTISEMENT
Article continues below this ad
Grosjean could not set a qualifying time and was also slapped with a five-place penalty for a gearbox change. However, he flew during the race, to be placed an amazing sixth position by lap 40. A crash between teammates Verstappen and Ricciardo brought out the safety car. Grosjean was following it around, weaving to get the tyre temperatures up.
However, he overdid it and crashed into the wall, with no one behind him who could have shunted into the back of his car. He initially blamed Sauber's Ericsson but on replays, the picture painted was very different and Grosjean had to live with the fact that he caused the crash himself.
Providing feedback will help us make your experience better.
Enjoyed Your Read? Let us know how likely you are to recommend EssentiallySports to your friends!