Gael Monfils Bows Out of Wimbledon Championships 2021 After Losing to World No.107 Pedro Martinez
Published 07/01/2021, 10:54 AM EDT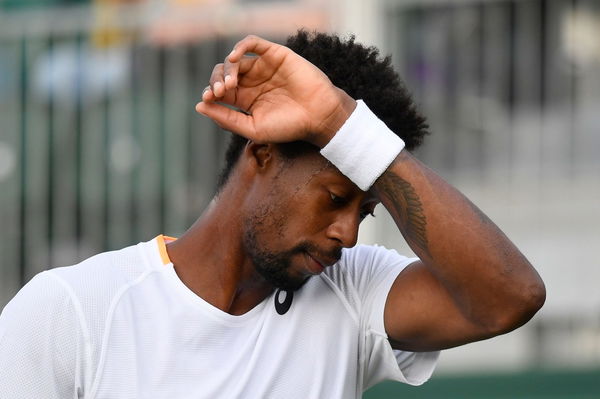 ---
---
13th seed Gael Monfils has lost against World No.107 Pedro Martinez in the second round of Wimbledon Championships 2021.
ADVERTISEMENT
Article continues below this ad
While Monfils' disappointing run of form continues, with this win, Martinez continues his fairy tale Wimbledon debut campaign.
Martinez gains the advantage against Gael Monfils at Wimbledon
ADVERTISEMENT
Article continues below this ad
Martinez was attacking from his forehand side early on. But mistakes from his forehand gave Monfils easy points early on and he led 2-0. But Monfils backhand was also not working well and Martinez quickly took the break back to level the set, 2-2.
Monfils' bad day continued as Martinez attacked his backhand. The Spaniard then took a 4-2 lead in the opening set as he won four games in a row.
Martinez would extend his advantage to 5-2 as Monfils was out of sorts. Monfils broke Martinez's streak of five games as he won his service games. But the Spaniard's consistent first serves gave him the opening set, 6-3.
Martinez takes the second set as well
Monfils was obviously the better server between the two and he started to show that as the first set ended. He started the second set well, and in five minutes he led 2-1. Then, Martinez had a nine-minute service game in which Monfils had an opportunity to break him. However, he failed and Martinex leveled it 2-2.
Having increased his intensity in the set, Monfils was caught as he failed to break Martinez. The Spanish player then caught him and broke him to lead 3-2 in the set.
That lead extended to 5-3. However, Monfils again had to work hard and save a set point on his service game. And then Martinex wrapped up the second set on his serve, 6-4.
Gael Monfils comes back in the third set
At the start of the third set, it looked like Monfils was headed for the loss. He barely held on to his serve. From here though both the players served well as Monfils increased his ace count as well. The set was nicely poised at 2-2.
Monfils suddenly wasn't giving any free points as the set reached 4-4. The Frenchmen continued his exemplary service in the third set to mount pressure on Martinez. At 5-4, Monfils started returning deep, and that caught Martinez off-guard, and Monfils took the third set, 6-4.
Pedro Martinez wins against Gael Monfils
ADVERTISEMENT
Article continues below this ad
The fourth set started off on a cagey note. Both of the players held on to their service games. And Martinez used more drop shots and slices against Monfils in this set. This came particularly useful as he would see an opening at 2- 2 but couldn't convert and Monfils led, 3-2.
Monfils had a dip after a long time and was 40-15 down at 3-3. However, he saved all the break points to lead 4-3. Later Martinez was 40-0 down, and he saved the three break points to level the set 4-4.
ADVERTISEMENT
Article continues below this ad
At 5-5, Monfils made some severe uncharacteristic errors to give the break to Martinez. But while serving for the match, Monfils saved a match point to level the set, 6-6. In the tiebreaker, Martinez pulled through to win it 7-5, and the match, 6-3, 6-4, 4-6, 7-6.