Gallardo hopes River face full-strength Barcelona
Published 12/19/2015, 9:41 AM EST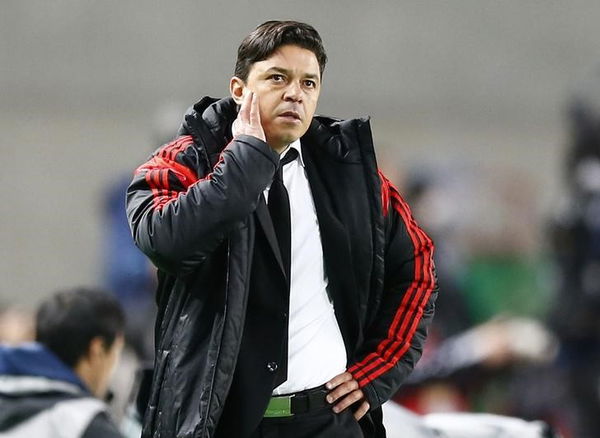 YOKOHAMA, Japan (Reuters) – River Plate coach Marcelo Gallardo was happy to accept the role of underdogs in Sunday's Club World Cup final against Barcelona, saying that while European champions had the best players, his team had a big heart.
ADVERTISEMENT
Article continues below this ad
He added that he hoped Lionel Messi and Neymar, doubtful due to illness and injury respectively, would play in what Gallardo described as an "emblematic game" for the Argentine club.
"I would like all the best players to play," Gallardo told reporters on Saturday. "For me, it's a pleasure to face the best three or four players in the world."
ADVERTISEMENT
Article continues below this ad
Although South America produces a stream of world class players, a difficult financial reality means they are all based with European clubs.
As a result, South American teams, who once competed on equal terms with their European counterparts, now look upon the competition as a once-in-a-lifetime opportunity to face a top team.
River's team is made up a mainly journeymen professionals with only a smattering of international caps between them.
"It would have to be a perfect game for us to have any chance," said Gallardo, who himself played for Argentina at the 1998 and 2002 World Cups.
"They are a very complete team, it's a big challenge for us and we are going to have to play very intelligently and be very intense to have a chance."
River won the old Intercontinental Cup, played only between the European and South American champions, in 1986 and were beaten by Juventus 10 years later, when Gallardo was in the team.
"I don't know if it's the biggest match of our lives, but it is the most emblematic," said Gallardo, who has transformed the team during his 18 months in charge.
ADVERTISEMENT
Article continues below this ad
"They have the best players and we have a big heart, we have a big desire to compete," he said.
Gallardo remembered that River were promoted from the second tier of Argentine football less than four years ago, having suffered relegation for the only time in their history in 2011.
"For the history of Argentine football and for our institution, this is one of the most important games, because of who we are playing against," he said. "Also, it hasn't been easy to get here.
ADVERTISEMENT
Article continues below this ad
"The last few years have been difficult and now we are in a privileged situation."
(By Brian Homewood, editing by Justin Palmer)