Gaming Community Reacts To Riot Banning S1mple
Published 03/29/2021, 5:47 AM EDT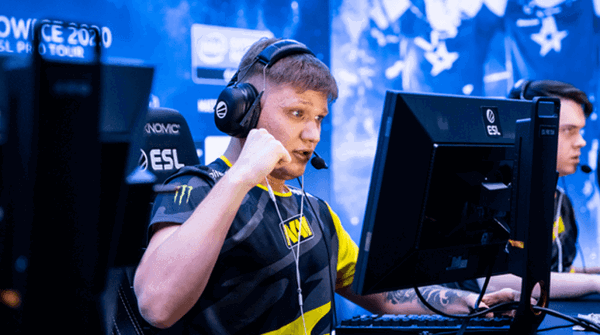 ---
---
It was a day full of surprises as CS: GO pro S1mple served a short ban from 5v5 online FPS shooter Valorant. The gaming community, however, did not hold back in expressing their thoughts as many felt the ban to be mostly unfair.
ADVERTISEMENT
Article continues below this ad
Oleksandr Kostyliev, better known as S1mple is a Ukranian professional Counter Strike: Global Offensive player. The player has a long list of accolades to his name, making him one of the best around.
Community reacts to Riot Games banning S1mple
ADVERTISEMENT
Article continues below this ad
The gaming community did not hold back after S1mple's ban. Some even took the chance to keep the story on the funnier side. You can read some of the tweets down below.
I got you blocked so you wouldn't switch, you're welcome

— Jake Lucky (@JakeSucky) March 27, 2021
too good for valorant, that's the reason why you got banned

— VannillA ❦ ⭐ (@thxnderPillar) March 27, 2021
stop being toxic !

— Gustavsson og sønner (@Gux_Valorant) March 27, 2021
they had to make sure u will stick to CS

— SEN Dylxn (@NottDylxn) March 27, 2021
The background story
As of late, S1mple has taken profound interest in Valorant, a game that shares vast similarities to CS: GO.
Just days after a Valorant stream, the player woke up to see he has been banned by Riot Games.The player instantly took things to Twitter where he expressed his disappointment.
I dont specifically show my nickname, I got an immortal, I wake up and see a block in ranked games LUL @PlayVALORANT

— Sasha (@s1mpleO) March 27, 2021
S1mple had just reached the Immortal rank in the game following which he faced the ban. He was able to login to the game but could not take part in ranked matches.
The issue was later fixed when a Valorant stragetist came in to help S1mple. The ban was soon lifted much to the delight of the player.
What could be the possible reason for the ban?
While the exact reasons may not be clear, S1mple could have been banned because of some toxicity in the chat. The new patch for Valorant has laid out certain bans for toxicity anywhere in the game.
Valorant has been banning players who use mods as of late. S1mple clarified he's no cheater having just reached the second highest rank in the FPS shooter.
ADVERTISEMENT
Article continues below this ad
There have been rumors about a possible switch for the CS: GO pro. Many believe S1mple moving to Valorant would help him dime a lot more. However, given the nature of his recent ban in the game, that seems highly unlikely.
ADVERTISEMENT
Article continues below this ad
It'd be a while before we see S1mple switch to Valorant if he does have any plans of doing so. Till then, the fans can rejoice over his regular streams.