Gaming Community Reacts To The Killing Of George Floyd And Its Aftermath
Published 05/29/2020, 1:57 PM EDT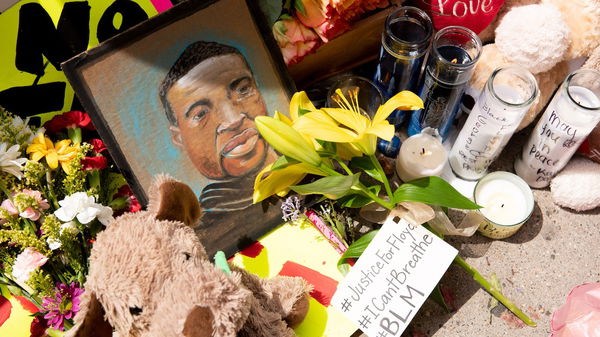 ---
---
On May 25, the world felt a turmoil of emotions after yet another civilian fell victim to police brutality in the United States. The incident occurred in Minneapolis, where a 46-year-old African-American man, George Floyd, died in police custody. Therefore, it sparked outrage across the globe, including all forms of entertainment industries. Well-known personalities from the field of sports to the music industry and even the gaming industry have stepped forward with their condolences. Some have strongly condemned the shocking incident, and rightfully so.
ADVERTISEMENT
Article continues below this ad
All this happened after a social media video surfaced, showing George Floyd handcuffed and pinned against the road by police officers. The cops were attending his case for suspected forgery. One such Caucasian officer pressed his knee against the suspect's neck for several minutes. Unable to move or breathe, the 46-year-old male succumbed to his death due to suffocation.
This latest incident of alleged racial discrimination by cops has flamed massive protests across the United States. Consequently, protestors demanding justice for Floyd's murder have damaged and torched several buildings, structures, and vehicles. Some have even resorted to looting. Meanwhile, the police officers involved in the killing were suspended, and the FBI has started its investigations.
ADVERTISEMENT
Article continues below this ad
Gaming personalities discuss the death of George Floyd
Top Mixer streamer, Tyler "Ninja" Blevins elaborated how the police brutality unfolded and called for charges against the four policemen involved.
Jess and I just watched the full #GeorgeFloyd video and are absolutely disgusted. This police officer kept his knee on his neck for three minutes even AFTER he stopped moving. The other 3 cops just stood there and let it happen, all should be held accountable for their actions.

— Ninja (@Ninja) May 28, 2020
Meanwhile, Jessica Blevins, wife and manager of Ninja, spoke about the victim and aftermath of the gruesome incident. While the murder angers her, like all of us, she also believes that looting isn't a solution.
George Floyd was murdered. There is no question about it. My heart is also angry and I understand the rioting. Something needs to happen. But what will fix this problem? It's not looting.

— Jessica Blevins (@JessicaBlevins) May 28, 2020
Other prominent personalities speak out
Professional Call of Duty League team Minnesota ROKKR delivered their condolences to George Floyd and his family. They stand with the community in the aftermath of the unjust killing. And also with those who are regular victims of racism and violence.
DJ Marshmello shared an artistic image showcasing the critical moments that led to the demise of the victim. #JusticeForGeorgeFloyd
Marcel Cunningham, better known as BasicallyIDoWrk, reminded Twitter that black lives matter. He further asked everyone to stay safe amidst the ensuing chaos.
KEEMSTAR responded to people who say looting and rioting doesn't solve the issue. "The riot is to express anger through destruction," said the DramaAlert creator.
Dear everyone,

Can you stop tweeting

"I don't understand how rioting & looting fixes the issue"

The riot is Not to fix the issue.

The riot is to express anger through destruction.

— KEEM 🍿 (@KEEMSTAR) May 29, 2020
The POTUS, Donald Trump, made a controversial tweet that has provoked many. Froste, a content creator for The Mob and 100Thieves, replied to the president's tweet.
Former CS: GO player, Mohan "Launders" Govindasamy, explained how the destruction harms both parties, civilians, and cops. "Good people will have to clean up your mess," he concluded.
Growing up I hated police and there's a part of me will always suspect the worst from them. Still, when peaceful protests turn into the destruction of property and family businesses there will be nothing but shame left for both sides. Good people will have to clean up your mess.

— BOXR_LAUNDERS 🇨🇦💘 (@launders) May 29, 2020
ADVERTISEMENT
Article continues below this ad
Malik Forté, an Esports host for the Overwatch League, outlined how peaceful protests escalate to riots. Moreover, he drew comparisons of the scenario with the Cincinnati Riots of 2001.
The situation in Minneapolis is very similar to something I lived through as a teenager. I remember protesting as it was the same neighborhood as my school. And like this situation, it started with peaceful protest and was escalated by the policehttps://t.co/3HqWZWxlPG

— Malik Forté 🎤 (@Malik4Play) May 28, 2020
ADVERTISEMENT
Article continues below this ad
While violence might not be the right process, neither was the police brutality and racial discrimination that turned George Floyd into a memory. As a result, the authorities must take the strictest actions against the officers and bring justice to the victim and his family.
Trending Stories