In the Garden of Eden
Published 03/08/2015, 10:42 AM EDT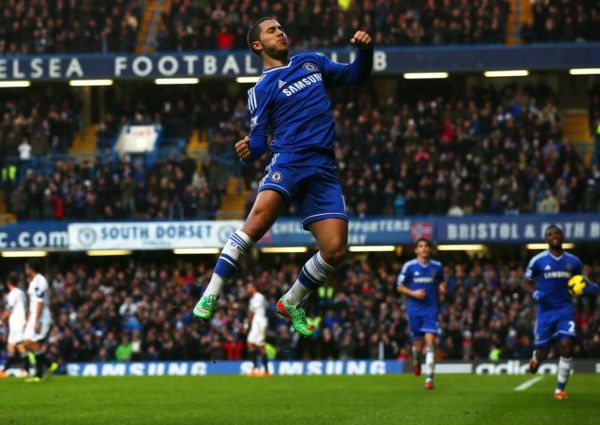 ---
---
In early 2010, a prodigious young talent arose out of the depths of obscurity in France. Eden Hazard, he of nimble feet, proceeded to dazzle the world with his mind-numbing array of tricks and skills with the football, leading Lille to a historic league and cup double. Barely 20 years old, he was already showing the world just how much he was capable of.
ADVERTISEMENT
Article continues below this ad
Fast forward five years, and Hazard is doing to the English Premier League what he did to Ligue One in his breakthrough season- turning heads and blowing away opposition defenders. Now with Chelsea, Hazard has blossomed into a world class player capable of taking on anyone and coming out on top. He's as good as your Wayne Rooneys and your Franck Riberys, but the question is, can he go as far as to reach the level of a Cristiano Ronaldo or a Lionel Messi?
Ronaldo and Messi, simply put, are the kind of players who come around once in a generation and it is an anomaly in itself that both them are playing at the same time. Capable of single handedly winning games for their teams, they dance their way around the pitch with ease and 5-0, 6-0 scores are hardly surprising when they are at their best. Besides the obvious playing talent, they command massive fan followings and the "Ronaldo vs Messi: Who is better?" debate often crops up between not just the Real Madrid and Barcelona faithful, but between any two followers of the world's only truly global game.
ADVERTISEMENT
Article continues below this ad
Judging Hazard based on his current level of ability, he hasn't quite reached that level yet. While he knocks in those all important goals for Chelsea from time to time when the rest of the team fails to deliver, he still dosent score as frequently as Ronaldo or Messi. In his three seasons at Chelsea, he has scored a total of 44 goals in 147 appearances. In contrast, Ronaldo has scored 290 times in 281 appearances for Real Madrid and Messi has scored 391 in 459 for Barcelona- both thus have significantly higher goals per game ratios.
This can be attributed to his lackadaisical finishing. While he often starts well with piercing runs down either side, Hazard is unable to find the back of the net most of the time, be it due to carelessness or due to the opposition's efforts to crowd him out. An honest individual, Hazard acknowledges this and is working to improve himself. The Premier League, known for its physical nature, doesn't help. A player of Hazard's calibre is often hacked down quite unmercifully when he gets too close to goal. No wonder Jose Mourinho complains so much that Hazard needs better protection from the referees.
Another reason why he doesn't score so often is because Hazard has brilliant footballing vision. An intelligent player, he is able to read play easily and unselfishly assist his teammates rather than chase an unlikely goal for himself .Also, other attributes help compensate for his lack of goals- Hazard under Mourinho has developed a tremendous work ethic – he is not afraid to track back and help recover the ball when Chelsea have been dispossessed. Hazard's versatility – he can play on the left, right, behind the striker or upfront – is similar to that of Ronaldo and Messi and his style of play falls somewhere between the two great footballing greats.
While he may share their ability to single handedly win games for his team and create moments of magic, Hazard is not yet as good as Messi or Ronaldo. Though, at only 24 years old, he has all time in the world to get there. The FIFA Ballon'd'or and numerous other honours will undoubtedly follow.
Trending Stories