'Genius' Warner makes it all look so easy at the WACA
Published 11/13/2015, 7:59 AM EST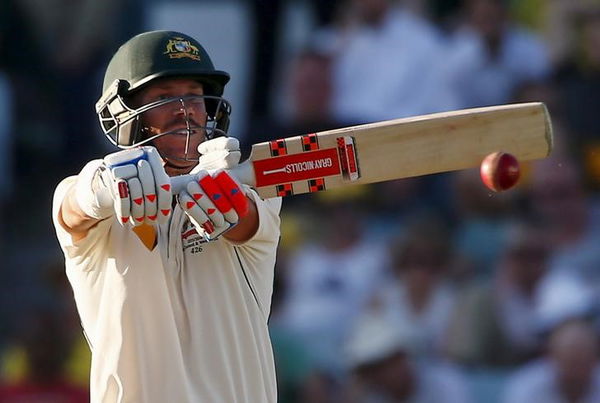 PERTH (Reuters) – For a player once dismissed as a Twenty20 slogger, Australia opener David Warner gave a very good impression of a world class test batsman at the peak of his powers when he scored 244 not out against New Zealand at the WACA on Friday.
ADVERTISEMENT
Article continues below this ad
The 29-year-old has scored hundreds in all three of his innings in the series against the Blacks Caps so far and he finished the day with the most runs ever scored by any batsman on the opening day of a test in Australia.
He now has 15 centuries — a milestone only compatriot Donald Bradman, India's Sunil Gavaskar and Englishman Herb Sutcliffe achieved in fewer than the 45 tests Warner has played.
ADVERTISEMENT
Article continues below this ad
In the process of accumulating the second highest test score ever at the WACA, he became the 25th Australian batsman to accumulate 4,000 test runs. Only Bradman, Matthew Hayden and Neil Harvey did it in fewer innings.
"He was outstanding," Usman Khawaja, who shared a stand of 302 for the second wicket with Warner, told ABC Radio.
"I was shocked when he got his third hundred in a row, that's pretty impressive, not many people can do that.
"I just kept telling him he's a genius and he is, he's on fire. The way he's batting at the moment, he's making it look so easy.
"Test cricket isn't easy, no matter who you play against. It's just really nice to watch, I hope it continues for a long time, you don't want to waste good form."
Speed of scoring and aggression have always been Warner's trademarks but to those strengths he has added a new level of fitness, the ability to maintain concentration over long periods as well as an appreciation of when to fire and when to hold back.
ADVERTISEMENT
Article continues below this ad
"He had times when he was scoring freely, then he wasn't, then the new ball came up and he took that on," Khawaja, who scored 121 as Australia ended day one on 416 for two, added.
"That's the maturity he has now. What's that 15 test centuries? That's pretty impressive for only 40 odd test match games. Hopefully he can keep it up for a very long time."
Maturity was not a word often associated with the brash Sydneysider in the early years of his test career when he was the self-confessed "attack dog" of Australia's sledging effort.
ADVERTISEMENT
Article continues below this ad
Just two years after being banned for part of the Ashes series for punching England's Joe Root in a bar, however, Warner is now vice-captain of the Australia test team.
(Writing by Nick Mulvenney in Sydney, editing by Patrick Johnston)