George Injury Halts The USA Basketball Scrimmage
Published 08/10/2014, 3:30 AM EDT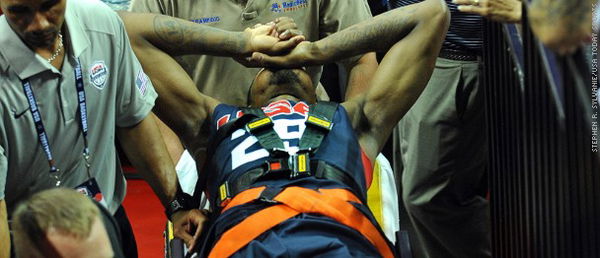 ---
---
LAS VEGAS : Indiana Pacers' all-star forward Paul George injured himself while contesting a breakaway layup by James Harden which created an awkward landing against the basket stanchion with a snap in his right leg causing a Team USA showcase came to a nightmarish conclusion
ADVERTISEMENT
Article continues below this ad
George's horrendous leg injury shut down USA Basketball's intrasquad scrimmage on Friday night at UNLV's Thomas & Mack Center.
After watching George taken out on a stretcher midst loud applause, Coach Mike Krzyzewski announced to the crowd that out of respect to George and his family, the game would be stopped with 9 minutes and 33 seconds remaining and George's Blue team trailing the White team, 81-71. The extent of George's injury wasn't immediately known; his leg appeared to fracture just above the ankle.
ADVERTISEMENT
Article continues below this ad
"This is a very tough blow, not so much about us, but about Paul," USA Basketball managing director and chairman Jerry Colangelo said. "It's a first for us in USA basketball to have something like this take place. It's a tough situation for our entire organization, our coaches and players and very, very emotional. No way the game could've gone on, under the circumstances."
"The main thing was just their concern for Paul," Krzyzewski said of the gathering on the opposite bench. We "told them to relax. We felt at that point we should not go forward and not to worry about playing again. But let's put all of our focus and all of our energy, whatever if you believe in a higher, someone up there above, let's focus on that in regards to Paul."
Once the huddle broke, the fans started a faint chant for George, whose father tried to console him. Players eventually mustered the courage to gather around George as a show of support and applauded him as he was carted away. George was taken to Sunrise Hospital in Las Vegas with his parents and Pacers General Manager Kevin Pritchard.
Doctors estimate a full recovery could take as much as 18 months.
Dr. Patrick Kersey, who treated Louisville guard Kevin Ware when he sustained a similar injury during the NCAA tournament regional finals in 2013, said George will likely need 6 to 12 weeks to recover from surgery and another 6 to 10 weeks to get back to a normal walking gait. Kersey is not treating George.
A complete recovery, Kersey said, normally takes 12 to 18 months, though the fact he is an elite athlete in top shape could speed up that timeframe.
The hardest part for the Pacers might be keeping George off the court once he thinks he's ready.
"Thanks everybody for the love and support," he wrote on Twitter. "I'll be ok and be back better than ever!!! Love y'all!!"
The Americans planned to reduce the 20-player pool to 14 or 15 players Saturday, but put off those plans after George's injury.
"Everything's on hold right and it should be," Krzyzewski said. "It would be so inappropriate for us to talk about anything else when there's a serious injury like this."
The defending champion U.S. team had already been weakened by player losses. Forwards Kevin Love, Blake Griffin, LaMarcus Aldridge and NBA Finals MVP Kawhi Leonard had all pulled out in recent weeks.
Krzyzewski and Colangelo refused to discuss the roster after the game, saying they didn't even know when they would make roster reductions.
"As an organization, we're just going to let a little bit of time go by here before we address anything like rosters, all that stuff," Colangelo said. "It seems so unimportant in the big scheme of things when you have something like this take place. It puts things in perspective."
Some NBA executives have long been concerned about injuries to players during summer competitions. Pau Gasol, then playing for the Memphis Grizzlies, broke his foot while leading Spain to the 2006 world title, and Manu Ginobili injured his ankle while playing for Argentina in the 2008 Olympics. He is sitting out the World Cup while recovering from a stress fracture in his right leg.
ADVERTISEMENT
Article continues below this ad
"Anything can happen anywhere, a lot of things happen," said Krzyzewski, who was coaching Duke against Louisville when the Cardinals' Kevin Ware broke his leg during the 2013 NCAA tournament.
"Tonight it happened during a basketball game. We need to take care of that," Krzyzewski said. "It doesn't mean it'll happen again and again and again; it means that it happened right now."
According to me this injury is going to effect the USA basketball squad massively, this will be the team with less number of player in the squad in addition to lack of experience which will make the winning difficult for them ,this will also effect the team Indiana Pacers as the recovery time is long.
ADVERTISEMENT
Article continues below this ad