German FA boss Niersbach resigns over 2006 scandal
Published 11/09/2015, 1:38 PM EST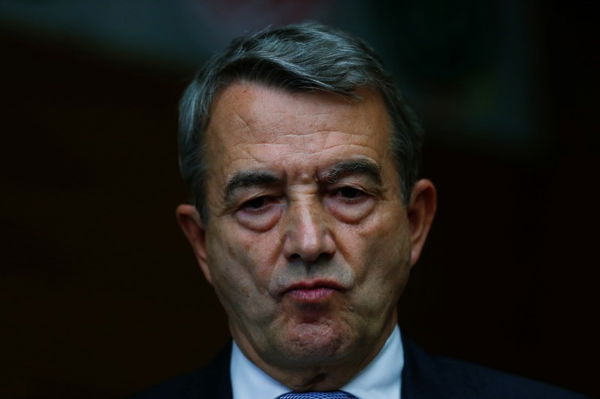 ---
---
FRANKFURT (Reuters) – German FA (DFB) president Wolfgang Niersbach resigned on Monday over a 2006 World Cup scandal, buckling under mounting pressure from an issue that has tarnished the reputation of the world's biggest national soccer federation.
ADVERTISEMENT
Article continues below this ad
Niersbach, under investigation for tax evasion in relation to the affair, said he was taking the responsibility for a controversial 6.7 million euro ($7.22 million) payment to FIFA allegedly used to bribe officials of world soccer's governing body to vote for Germany's World Cup hosting bid.
"In order to protect the DFB and the position, I step down as president with a heavy heart," Niersbach told reporters.
ADVERTISEMENT
Article continues below this ad
"I decided to resign because I realised I had to take the political responsibility."
DFB vice presidents Reinhard Rauball, who heads the German Football League (DFL) and is president of Borussia Dortmund, and Rainer Koch have jointly taken over Niersbach's position on a temporary basis.
At the heart of the investigation is a 2005 payment from the DFB that Der Spiegel magazine alleged was a return on a loan from then Adidas CEO Robert-Louis Dreyfus to help buy votes for Germany's successful World Cup bid at the FIFA election in 2000.
"I was there from the first day of the 2006 World Cup bid until the end….and in all these years I worked not only in a clean way but also with passion and trust," Niersbach said in a DFB statement.
Niersbach, an executive committee member at FIFA and European soccer's ruling body UEFA, had been at the DFB for a quarter of a century, climbing up from spokesman to general secretary and eventually president in 2012, succeeding Theo Zwanziger.
"That makes it even more depressing and painful to be confronted nine years later with processes I had nothing to do with," he said. "I want to make it clear once more that I was not aware of the payments in question. That's what makes the decision to suffer the political consequence so much harder."
LOEW SHOCK
Germany coach Joachim Loew said he was stunned by the 64-year-old's resignation.
"I just found out 10 minutes ago and I am shocked and surprised," Loew told reporters as his team gathered for international matches this month.
"Apart from all the legal facts I think Wolfgang was a fantastic person and a fantastic president for us. He did everything for football. So I personally feel very sorry he stepped down."
Last week more than 50 police and tax investigators raided the DFB headquarters as well as the homes of Niersbach and other officials.
They were searching for evidence to back up suspicions by the Frankfurt prosecutor's office that Niersbach, a 2006 World Cup organising committee vice president, Zwanziger and another former committee member did not pay tax on the 6.7 million euros.
ADVERTISEMENT
Article continues below this ad
A Der Spiegel report in October alleged a slush fund was set up with Dreyfus' financial support to buy votes for Germany's World Cup bid.
The DFB and Niersbach, plus then-organising chief Franz Beckenbauer, rejected the votes-for-cash claims.
Niersbach said an internal investigation was underway to find out why the amount was paid to FIFA and what was it used for.
ADVERTISEMENT
Article continues below this ad
Asked at a news conference on Oct. 22 why the DFB had paid FIFA the amount, he replied: "I don't know".
(By Karolos Grohmann, Editing by Ed Osmond)