German official fails to answer questions over 2006 World Cup cash
Published 10/22/2015, 1:17 PM EDT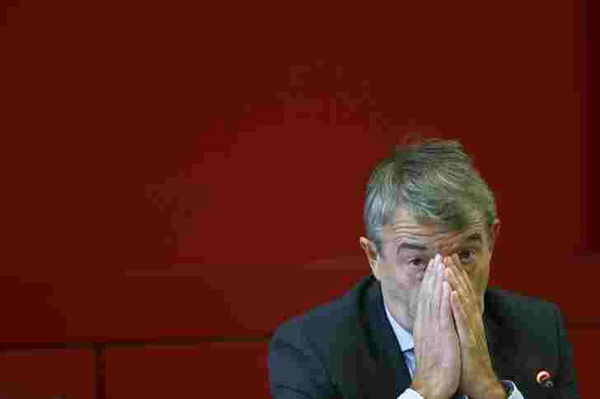 FRANKFURT (Reuters) – German soccer chief Wolfgang Niersbach said on Thursday he could not fully explain a payment of 6.7 million euros ($7.5 million) to the sport's governing body FIFA, a year before Germany hosted the 2006 World Cup.
ADVERTISEMENT
Article continues below this ad
Niersbach again denied a report by magazine Der Spiegel last week that a slush fund had been set up to enable the German organising committee to pay bribes to FIFA officials for awarding it the right to right to stage the tournament.
But he acknowledged there were unanswered questions surrounding the payment, which the committee made to FIFA in 2005. The German Football Association (DFB), which Niersbach heads, has said it was for a cultural programme during the tournament.
ADVERTISEMENT
Article continues below this ad
"I don't want it to look like I am dodging questions … but today I cannot give you a complete explanation," Niersbach told a hastily arranged news conference at DFB headquarters.
The president of the world's biggest football association said he still had to get the full picture of how the amount was transferred to FIFA. "There are question marks regarding this process that I have as well."
He said this was why the DFB had asked a law firm to investigate the matter. Frankfurt's state prosecutor is also looking into the allegations.
The affair threatens further damage to the reputation of world soccer. FIFA is at the centre of a U.S. corruption probe in which 14 soccer officials and sports marketing executives were indicted in May, and Swiss authorities are investigating its president Sepp Blatter on suspicion of criminal mismanagement and misappropriation of funds.
"SECRET FUND"
Der Spiegel has reported that Germany's 2006 bid committee tapped into a secret fund to buy votes, alleging it had been set up with money from late Adidas CEO Robert Louis-Dreyfus.
It said those aware of the alleged slush fund had included Franz Beckenbauer, head of the 2006 organising committee and former World Cup winning player and coach, and Niersbach, who was a vice president of the committee.
Beckenbauer is separately being investigated by FIFA for alleged non-cooperation with investigations into the bidding process for the 2018 and 2022 World Cup elections, controversially won by Russia and Qatar respectively. He has rejected all the allegations.
Niersbach said: "The main issue is what I underlined last week. That everything was legal with the awarding of the 2006 World Cup. No slush funds and no bought votes. This allegation … is not true."
He said the money was demanded by FIFA's finance committee in order to pay out a contribution of 170 million euros towards the Germans' organisational budget, as the German organising committee was at the time only just starting to generate revenues.
Asked why FIFA needed 6.7 million euros to pay out a much higher sum, Niersbach shrugged his shoulders and said: "I do not know that."
He said he also did not know how the money was used by FIFA once it was transferred by the Germans.
FIFA said in a statement: "That the financial support of FIFA World Cup Organising Committees should be coupled to any kind of financial advance payment by the respective organising committee or the relevant football association in no way corresponds to FIFA's standard processes and regulations.
ADVERTISEMENT
Article continues below this ad
"Furthermore, in general the FIFA finance committee is not authorised to receive payments in any way, nor does it have its own bank account."
FIFA added: "The allegations involving the DFB, the
German local organizing committee and the 2006 FIFA World Cup are under review as part of the internal investigation being conducted by FIFA with its outside counsel.
ADVERTISEMENT
Article continues below this ad
"FIFA will be requesting that the DFB cooperate in this investigation."
(Reporting by Karolos Grohmann; additional reporting by Brian Homewood in Zurich; Editing by Mark Trevelyan)