Gerrard Reveals Reason for Liverpool Exit
Published 05/13/2015, 9:48 AM EDT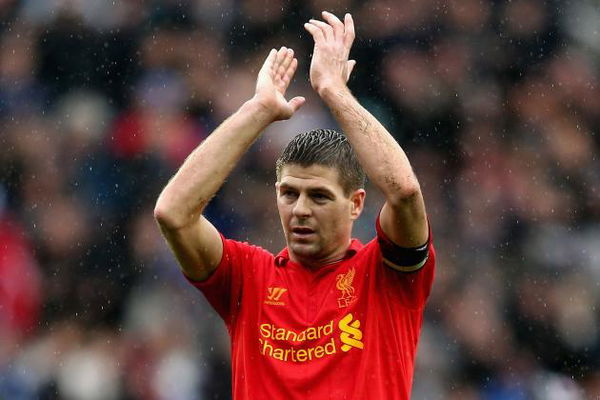 ---
---
Liverpool captain Steven Gerrard has revealed that his decision to leave the Merseyside outfit for LA Galaxy of the MLS, after 17 years with the club, was made when he realized that he will not be a regular starter anymore and that does not have the same buzz that playing regularly has.
ADVERTISEMENT
Article continues below this ad
Gerrard is preparing to walk out of the tunnel at Anfield for one last time as Liverpool captain this Saturday against Crystal Palace and the 34-year old admits that he cannot see himself as a fringe player and that is why he has decided to leave.
"I'm going to come on as a sub and the buzz changes," Gerrard told reporters.
ADVERTISEMENT
Article continues below this ad
"For me, I go to work on a Monday morning and I look forward to Saturday, to prepare to go to battle with some wonderful people – with good mates – and that's my buzz.
"When a manager gets you into the office and says that's going to change and it's going to become more limited – that's when you make your decision.
"It's not a selfish thing; coming on as a sub's just not the same buzz so things have changed this year."
The former England captain admits that Saturday's game will be very emotional for him and also everyone associated with the club. Gerrard hopes to sign off with a good performance and more importantly, a win, even though Liverpool's chances of qualifying for the Champions League are slim.
"I'm going to get the attention at the weekend, it's not something I really like, but hopefully I can put in a good performance for the supporters so we can get a win and I can enjoy the send-off that I'm going to get," he added.
"It's going to be a difficult day but I'm going to try and enjoy it. It'll be strange, I'm sure it will. It'll be an emotional day for me and my family and friends that have followed me throughout my career.
ADVERTISEMENT
Article continues below this ad
"And also for a lot of supporters that have watched me for many, many years, not just at the stadium but around the world as well.
"Everyone's talking about it but for me I just want to stay focused on the remaining games and the training and sessions ahead.
"There's plenty of time to be sentimental and emotional after the games are done but I don't really want to listen to supporters being emotional face to face because I'm a little bit afraid of breaking down and showing too much!"
ADVERTISEMENT
Article continues below this ad
With just two games to go for the club idol, Liverpool fans all over the world are preparing for an emotional two weeks. Such loyal servants for any club are hard to come by in this time and age and Gerrard will leave the club with utmost admiration and respect.