"Get a Grip of Your Chat!"- Dr Disrespect Calls On Sony and Microsoft to Fight Racism
Published 06/05/2020, 6:43 AM EDT

Follow Us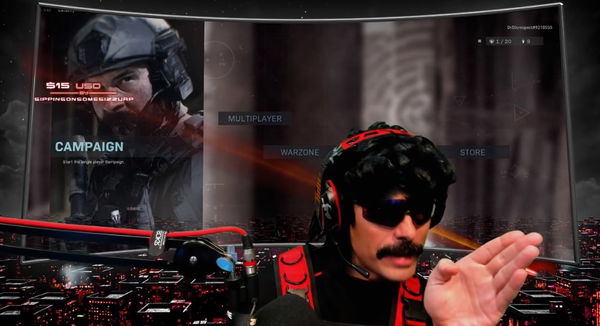 Racism has once again taken center stage across the globe. In an ideal world, this would not even be an issue in this day and age. Sadly, though, the reality is quite harsh and unrelenting. With the conversation around racism reignited following the wrongful death of George Floyd, many from the gaming industry have stood up to voice their opinions. Herschel "Dr DisRespect" Beahm, a Twitch superstar, has called on studios and tech giants to do better in the fight against racism.
"Get a grip"- Dr DisRespect
Gaming streamers usually like to stick to just that, video games. They refrain from making political statements since their viewers include people from all spheres, political or not. However, racial discrimination can never be acceptable and the current atmosphere is such that gamers are speaking up as well. One among them is Dr DisRespect, who is outspoken on everything he holds true.
ADVERTISEMENT
Article continues below this ad
Talking to his viewers during one of his recent streams, Doc touched upon the sensitive topic. He called out tech giants, Sony and Microsoft, and game developers for not moderating their chats during live online events.
"I'm speaking specifically to huge video gaming launches or reveals or press conferences or conventions like briefings. Xbox, Microsoft briefings, Sony PlayStation reveal events, etc that are going to live-stream these events. I think you should see their chats, they're not moderated.
"I go there as a spectator, it's a fucking distraction to see the amount of racism that happens within a chat that is unmoderated. And I think these publishers and developers, they gotta f*cking step up. If you're gonna go live on YouTube or Twitch or whatever, get a grip of your chat, cause it is outta control." 
"Racism and negativity is sickening"- Doc
ADVERTISEMENT
Article continues below this ad
He later took to Twitter to once again stress the importance of cultivating a positive community. He expressed his disgust at the racism and negativity in such chats.
"Publishers and game devs should consider muting stream chats or start creating proper communities. When there are 500k in a stream to see a huge reveal, there needs to be a heightened level of moderation. The racism and pointless negativity is sickening."
Dr DisRespect is spot on with his assessment. Racism is quite rife in such unmoderated chats, and while it may not affect everyone, it is is traumatic for those it does.
ADVERTISEMENT
Article continues below this ad
Gaming is a diverse community like few others. Powerful corporations, like the ones Doc mentioned, have to be pro-active in their approach to weed it out. It should not have to take a tragedy to finally take action.
Let's hope Doc's message reaches the right ears, and we see some checks in place moving forward.