Virat Kohli is one of the most expressive players on the cricketing field. He doesn't shy away from showing his emotions. Whether it is expressing his disappointment about a dropped catch or celebrating a wicket. Whether it is celebrating a milestone or giving it back to sledges, he doesn't shy away from anything.
But undoubtedly Kohli is also one of the best batsmen of this generation. He has been performing consistently in all three formats. Having chases for dinner. Recreating the art of building an innings.He has not only dominated top class bowlers but also climbed peaks of records.
Also Read: Kohli nears Tendulkar's record.
Here are some GIFs which prove why Virat Kohli is the king of 22 yards:
1. Even Malinga isn't safe when Kohli is on the crease.
2. Keep looking for the ball Watto.
3. He makes hitting sixes look so easy!
4. This is what happens when you sledge him.
5. How about Virat the bowler?
6. Sometimes he does the unthinkable.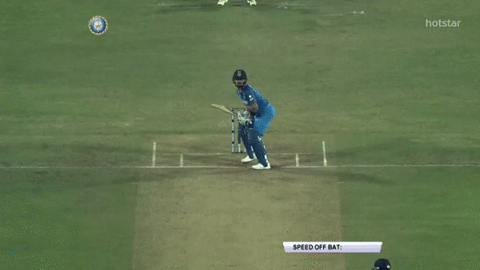 7. Might as well try his luck with tennis, eh!?
8. And those ecstatic celebrations.
Well, we will always be short of words to define Kohli and his class. But these GIFs pretty much define his passion for the game. Aussies landing in India be aware of a red hot Kohli!
And till then
"All Hail King Kohli!"