'I'm Jealous of His Swing': Nelly Korda Pokes Sibling Fun and Praises Her Brother Sebastian Korda On His Monumental Win
Published 01/21/2023, 12:43 PM EST
By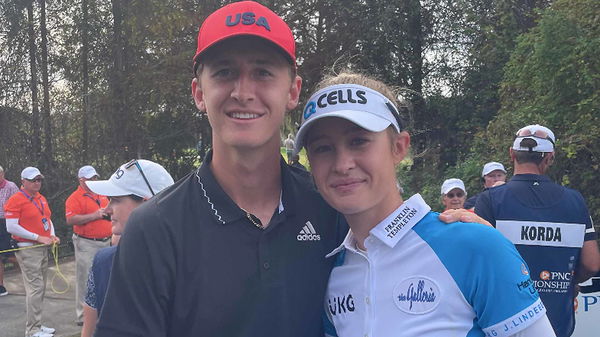 Nelly Korda's younger brother, Sebastian Korda, provided one of the biggest upsets at the Australian Open by defeating Russian ace, Daniil Medvedev. Indeed, the Korda household went into a frenzy in the wee hours of Friday and so was the LPGA star. After the day's play, Nelly spoke about her brother's victory and scrubbed off her brother's "worst athlete" comment.
Nelly Korda reacts to brother's AO win
Participating at the Hilton Grand Vacations Tournament of Champions, Nelly Korda responded to a comment made by her brother, Sebastian Korda, in which he referred to himself as the "worst athlete in the family." Her take on his perception? "It's complete BS," she said.
ADVERTISEMENT
Article continues below this ad
Furthermore, Korda went on to praise her brother and his skills, stating that she believed her brother was one of the best athletes in the family. The 24-year-old even added that she was jealous of his swing!
"He's the best. Honestly, he's the best. His hand-eye coordination is unbelievable," she said. "His swing — I'm jealous of his swing actually. It's crazy."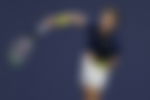 But while Sebastian is predominantly a right-handed player, her sister revealed his dual ambiguity. "He's a lefty. He's a natural righty, but he plays golf lefty. He played hockey lefty. I mean, he grew up playing hockey. He was pretty good at it, too. Like he skates really nicely, plays golf nicely, plays tennis beautifully," she said in his praise.
Did Nelly watch her brother win?
Due to struggles with the distinct time zones, Nelly revealed earlier that she would give her brother's game a skip. Yet, sleep deprived her of the much-anticipated game, so much that she woke up before her alarm bells!
ADVERTISEMENT
Article continues below this ad
Revealing that she saw him win in real time, Korda detailed her experience that morning. "Yeah, I saw him — actually, I saw him win in dining, so that was cool. I did actually wake up 30 minutes before my alarm to watch him play just naturally knowing that he was playing," she recalled.
ADVERTISEMENT
Article continues below this ad
Korda continued to effuse praise on her brother, calling it "special" to see him achieving his accolades. "It's really special seeing him achieve all this, and I couldn't be happier for him."
Edited By: Manaal Siddiqui