'Hints of MJ Everywhere': Professional Golfer Describes Michael Jordan's Luxurious Golf Course
Published 03/24/2021, 2:10 PM EDT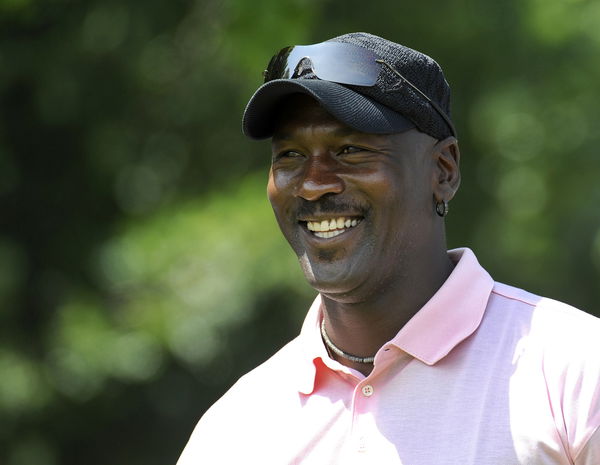 ---
---
It is no secret that NBA legend Michael Jordan has his own golf course. Being an avid fan of the sport, Jordan opened the 'Grove XXIII' last year and photographs of the beautiful layout have already taken the internet world by storm. Dylan Wu, who is a player on the Korn Ferry Tour, recently managed to take a tour of the course and was taken aback! 
ADVERTISEMENT
Article continues below this ad
Wu got the favor from former World No. 1 Luke Donald. Not everybody gains access to enter MJ's exuberant golf course, but the 24-year-old Northwestern Alum got the chance to spend quality time in a golfer's paradise. 
"It's super cool. It feels like you're not in Florida. It feels like you're in the Midwest with the fescue, but the vibe is just amazing. It's uncompared to. You just see hints of MJ everywhere like the tee boxes all had six rings on them. The yardage numbers would be on the tee markers, and they were basically six rings," Wu reflected on his visit. 
ADVERTISEMENT
Article continues below this ad
The golf course is designed by Bobby Weed, a renowned golf architect who has worked with other layouts before. Jordan's course is situated in Hobe Sound in South Florida, where a few PGA Tour members come and compete against the Chicago Bulls icon. 
Dylan Wu explained how Michael Jordan dominates at his golf course
Michael Jordan is a person who is obsessed with winning. Hence, if he's setting up a golf course, the six-time champion would obviously structure it to suit his game. Though he's not a professional golfer, Jordan plays at least 18 holes every day. 
"I wouldn't say the course is super tough," Wu said. "There's a lot of run off areas where you can putt from. So, if you're giving MJ 10 shots a round, he can scrape it around. Luke was basically saying it's hard to beat MJ out there sometimes versus somewhere like the Bears Club that is a lot more difficult off the tee."
Furthermore, the golf course also has longer greens and the balls really travel at a tremendous pace. Furthermore, Wu also mentioned that Michael Jordan has installed special golf carts that travel up to 30-35 miles per hour! 
ADVERTISEMENT
Article continues below this ad
"The vibe was just really chill. There were no tee times, and every cart has Bluetooth and connects to your phone to play music. There's no dress code or anything. It's just a really cool one-of-a-kind club. Unfortunately, we didn't get to see MJ when we were there, but it was super fun. I really enjoyed it," Wu expressed. 
There is also a drone that delivers food and beers to the players right on the course. It is indeed a one-of-a-kind experience as Wu said. Only a personality like Michael Jordan is capable of creating such a picturesque and modern layout. 
ADVERTISEMENT
Article continues below this ad
Read Also: Michael Jordan and His Love Affair with Golf: Three of the Greatest MJ Stories Between 18 Holes
Trending Stories