Tiger Woods vs Michael Jordan Net Worth Comparison: Who Is the Richer Athlete?
Published 08/08/2021, 11:44 AM EDT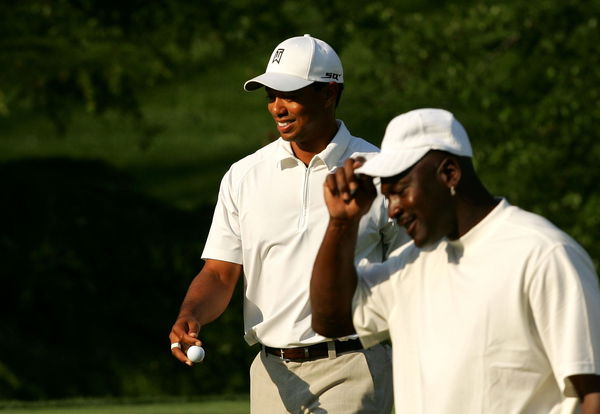 ---
---
Michael Jordan and Tiger Woods are considered GOATs in their respective fields. Many believe Jordan's time with the Chicago Bulls saved and revived the NBA in the 90s, his popularity reaching unbelievable heights. Woods, on the other hand, is regarded as the most successful golfer of all time. That being said, the two icons aren't just great athletes, but also the richest athletes of all time. Let's take a look at their earnings while comparing their net worth.
ADVERTISEMENT
Article continues below this ad
Is Michael Jordan richer than Tiger Woods?
According to Celebrity Net Worth, Tiger Woods' net worth stands at $800 million. Jordan, on the other hand, is reportedly worth $2.2 billion. 
ADVERTISEMENT
Article continues below this ad
Jordan, who started his NBA career in 1984, has earned billions – his wealth growing even after he retired. He earned $98 million while playing, his salary only dipping when he played with the Washington Wizards. He also owns the NBA team Charlotte Hornets, adding to his already wide range of investments.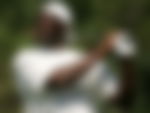 The six-time NBA champion bought the Hornets in 2010 for $175 million, selling 20 percent of it to Gabe Plotkin and Daniel Sundheim. His other investments include Sportrador, Muzik, and aXiomatic. He even has a Nissan car dealership in North Carolina. Additionally, he runs five restaurants with Cornerstone Restaurant Group as a partner.
The common factor: Nike
What Jordan and Woods both seem to have in common is their lucrative deals with Nike, both signed in their rookie years. Jordan initially signed for a five-year $500,000 contract with the company, which was more than anything else signed back then. When his Air Jordans were released, Nike made $126 million over the expected $3 million. Now, according to Forbes, MJ has a $1.3 billion deal with Nike.

Woods signed with Nike in 1996 – a $49 million contract for five years. Later, they came to a $100 million deal. Their contract has faced and survived the test of time, Nike not dropping Woods in 2009 amidst controversy like most other brands did. As per a 2019 report, he is worth $22,540,000 to the brand.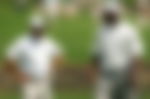 Can Tiger Woods reach Floyd Mayweather's net worth?
ADVERTISEMENT
Article continues below this ad
Woods, a child prodigy, has earned his fortune from winnings and endorsements. With career earnings of around $1.5 billion, Woods is reportedly the highest-earning golfer of all time. When he started his professional career with the PGA Tour in 1996, the California-native was signed by Titleist and Nike. Till 2020, he earned $60 million via endorsements from brands like Bridgestone, Hero Motorcorp, Monster Energy, Rolex, and TaylorMade.
He designed a golf course – Payne's Valley – which opened in Missouri (2020). Apart from that, Woods owns a $25 million yacht named "Privacy", along with his $54 million Gulfstream G550 private jet. He even owns a mansion in Jupiter, worth around $54 million.
ADVERTISEMENT
Article continues below this ad
Though Woods hasn't retired, he has been sidelined since his accident in February.
Jordan
retired in 2003. Both have kept up with their investments, with Jordan's seemingly on the slightly more expensive side with the Hornets. However, with an $800 million net worth, Woods is not far behind.