Watch: Steph Curry Becomes the Latest Victim of Phil Mickelson's Famous 'Flop Shot' Challenge
Published 09/11/2021, 4:38 PM EDT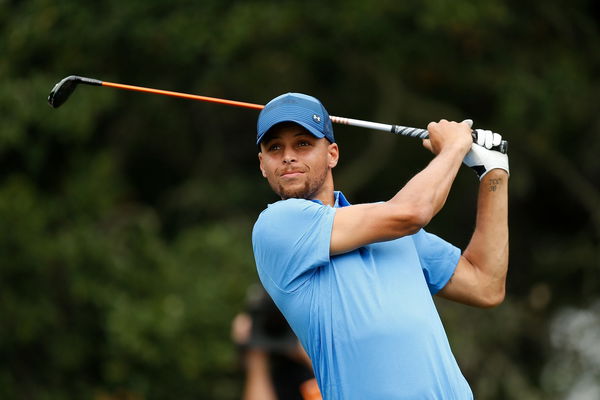 ---
---
Everyone following Phil Mickelson is aware of his golf prowess, and his history with crazy flop shots, including his Flop Shot Challenge while at the 2014 Aberdeen Asset Management Scottish Open. Mickelson has had some incredible flop shots moments over the course of his career. The most recent one was with Golden State Warriors icon Steph Curry, who often plays golf as a hobby.
ADVERTISEMENT
Article continues below this ad
Mickelson's recent interaction with Curry has grabbed everyone's attention.
The two icons have been together on the field at the Workday Charity Classic, and Mickelson's flop shot over the Warriors icon has become a wildly shared video on the internet after some time.
ADVERTISEMENT
Article continues below this ad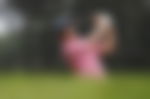 Does Steph Curry flinch during Phil Mickelson's flop shot?
"You're a little taller than my normal test subjects here," Mickelson started. "I'm going to just drive the club into the ground and hope for the best". Curry smiled, trying to lower himself on the ground as Mickelson prepared.
Mickelson's doubt was valid, and Curry – despite his bravado – did flinch ever so slightly. While Mickelson and his flop shot are famous, the Warriors star's movement seemed inevitable. He screeched when Mickelson finally shot the ball, teeth showing and nervous laughter escaping. The 51-year-old legend caught up on Curry's nervousness quickly, the Warriors icon agreeing immediately.
"Were you eyes open?" Mickelson asked.
ADVERTISEMENT
Article continues below this ad
"I don't even know," Curry replied.
Once Mickelson was off the camera, Curry clutched his chest, convinced that his heart did skip a beat.
Last year, Mickelson and Curry were a part of The Match: Champions for Change – both competing against each other. Mickelson teamed up retired NBA star Charles Barkley, and Curry was with Peyton Manning. Barkley and Mickelson beat Curry and Manning, even with Barkley's handicap being 25. 
ADVERTISEMENT
Article continues below this ad
Mickelson, who is 51, is the oldest golfer to have won a major championship. He won the PGA Championship this year and is a six-time major winner. Curry, on the other hand, often plays golf for charity and also as a hobby. Curry is currently in the NBA offseason, waiting for his return to the court. For Mickelson, while the PGA Tour season has wrapped up, he is the assistant captain for the upcoming Ryder Cup.