'Basically High School': Paige Spiranac Empathizes With Phil Mickelson Amid Ongoing Saga
Published 05/18/2022, 7:00 PM EDT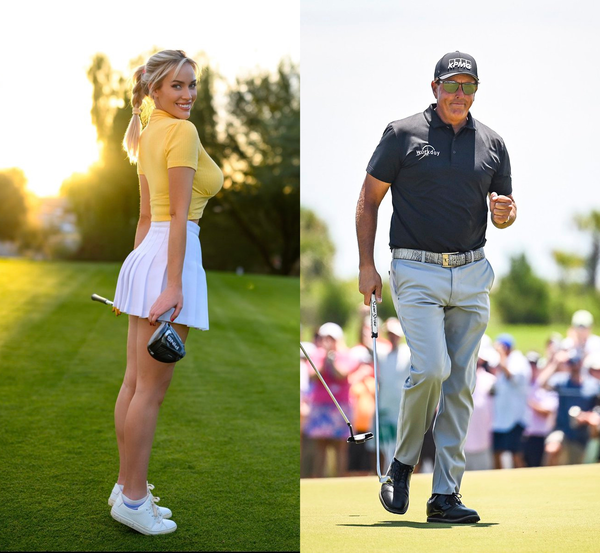 Phil Mickelson is considered one of the best players of all time. Known for his courteous behavior, he has always been a fan-favorite. However, his fandom took a hit in February when an article about the controversial comments he made against the PGA Tour got published. 
Having faced harsh criticism from fans then, Mickelson has not played on the Tour since. But while most of the golf world has been criticizing him, a retired professional golfer's recent comments are an aid to him.
ADVERTISEMENT
Article continues below this ad
"I don't know. It's a really difficult topic and conversation," Paige Spiranac said. The 29-year-old discussed Mickelson's situation on the latest episode of her podcast, 'Playing a Round with Paige Renee.' 
"I don't think we have enough information to make a sound argument," she further added. "…on if (Phil) should or shouldn't be playing or the backlash that he should have." 
She further explained that she doesn't know what to believe and what not to. "I've heard things about me that are so off base," Spiranac said. Therefore, the golfer revealed that it is hard to make anything out of the news. 
"Golf world is basically high school," Spiranac further stated. "The drama that happens, and stuff like that happens to me all the time," she added. She further added that it is impossible to know what is true and what is not until we have enough information. 
What do we know about the Phil Mickelson situation so far? 
Mickelson had begun criticizing the PGA Tour once the Saudi-backed Golf League started to take shape. He called out the Tour for its "obnoxious greed," in an interview. Notably, the Tour's executives explained that the allegations are not true. 
Later, Alan Shipnuck, the author of the recently published biography on Phil, revealed the controversial comments he made through an article. According to the article, Phil admitted that he has been supporting the League to make changes within the Tour. 
ADVERTISEMENT
Article continues below this ad
Afterward, Mickelson issued a public apology to the League and has been on a hiatus since then. Along with other tournaments, he didn't attend the Masters as well; a first since 1994. Although he registered to be at the PGA Championship, he withdrew a couple of days later. 
ADVERTISEMENT
Article continues below this ad
Notably, it was not the golfer who informed the public about his decision not to attend the events. The Masters' chairman revealed through a press conference that Mickelson withdrew over a text message. Meanwhile, the PGA Championship officials put out a statement on social media to the public knowledge. 
Watch This Story: Greg Norman's Message to Phil Mickelson Is Going Viral
Edited By: Melroy Fernandes