When Michael Jordan Tried to Settle the GOAT Debate Between Tiger Woods and Jack Nicklaus
Published 08/12/2021, 2:11 PM EDT
By Looking back, one can say that Michael Jordan and Tiger Woods ruled the 90s – influencing beyond just basketball and golf. As new generations of athletes continue to take over, Jordan and Woods are considered the best of the best. That being said, within each sport, there is a debate on its own. While Jordan is in many ways compared against LeBron James, Woods has been compared to Jack Nicklaus.
The debates are never-ending, many agreeing that no two athletes can be compared properly. Woods and Jordan both have Nike and golf in common, golf starting out as a hobby of sorts to Jordan. While golf has indeed brought the two legends together. The six-time NBA champion has even spoken about Woods' contribution to golf, especially as he made it more of everyone's sport.
ADVERTISEMENT
Article continues below this ad
Tiger Woods or Jack Nicklaus: Who does Jordan pick?

In an earlier interview, Jordan settles the Woods-Nicklaus debate in his own style. While speaking to Cigar Aficionado in 2020, Jordan spoke a little about Woods and the comparisons to Nicklaus. "Obviously Jack won more during the time he played," Jordan said. However, he spoke about Woods' game evolving and crossing a lot of boundaries. "Does that mean he's any less than Jack? I think [the sentiment] is unfair".
The Chicago Bulls legend has even spoken about his comparisons to James or Bill Russell. The game changes with every era, and labeling someone GOAT might not consider all factors.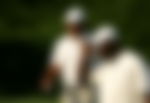 As mentioned, Nicklaus has more major titles than Woods. On the other hand, the latter has 82 PGA Tour wins, only tied with Sam Snead. Many often compare their prime, Woods probably coming out on top with 27 wins from 1999 to 2002. The competition they faced was also compared, experts and reports stating that Nicklaus' competition was more fierce.

Woods himself has spoken about greatness and the James-Jordan debate. As per the 45-year-old, both NBA icons remain different, also possible due to the difference in eras. Both players have changed the game, and it does not matter as they keep on winning.