'Better Than Most': 2021 Players Championship Honors Tiger Woods and the Iconic Call From 2001
Published 03/13/2021, 2:03 PM EST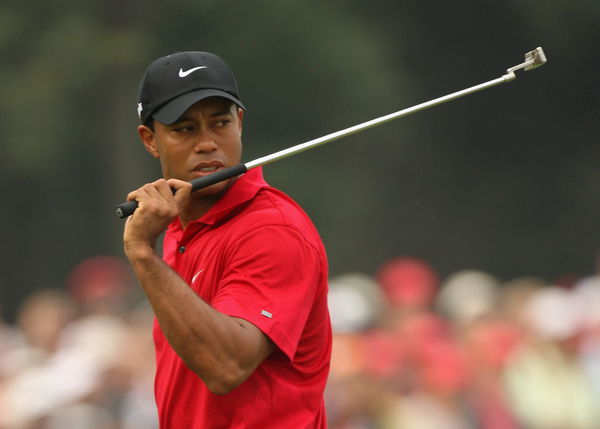 Tiger Woods is not taking part in the 2021 Players Championship, but he is being honored in an astounding manner at TPC Sawgrass this year. The par-3 17th hole is a daunting one for every professional, but Woods produced an iconic moment 20 years ago on this layout. 
The Players Championship is paying a special tribute to Tiger Woods at the 17th hole by etching his name and the words of NBC commentator Gary Koch who uttered one of the most celebrated words in golf history. 
'Better than most' – Players Championship honors Tiger Woods during the third round
ADVERTISEMENT
Article continues below this ad
It was the third round of the 2001 Players Championship and Tiger Woods sat calmly on the No 17 green at TPC Sawgrass. He had to make a put of a lifetime with a ball that sat on a rough with plenty of complications. 
Woods had to send the ball downhill and make it curve to the left in order to make the putt. It was a 60-footer and the American had to make it error-free to get the much-needed birdie. Almost everyone looked in disbelief as Woods masterfully sent the ball rolling down into the hole. 
The shot was perfect, but what topped it was Gary Koch's commentary. The exuberant NBC commentator uttered the phrase "better than most" as the ball started to curve left after hitting the brown patch. 
Woods calmly struck the Nike golf ball with his Scotty Cameron Newport 2 putter, and as it neared the hole, Koch once again exclaimed, "better than most," after which the ball successfully dropped inside the hole. 
As the crowd at TPC Sawgrass watched and breathed a sigh of disbelief, the elated commentators broke a moment of silence and watched Woods enjoy his victory. 20 years later, Woods' name and the phrase "better than most," are etched on the pin-flag on the 17th hole. 
Woods went on to win the 2001 Players after his third-round heroics
ADVERTISEMENT
Article continues below this ad
Tiger Woods did not allow his third-round heroics to go in vain. He finished the round two strokes behind the leader but made up in the final round. Woods demonstrated tremendous grit to finish the tournament as champion for the first time in his career. 
The 'better than most' putt certainly elevated Woods' confidence about the final round as he posted a 5-under 67 to win the tournament by one stroke ahead of runner-up Vijay Singh. While the winning moment was special, the 17th hole birdie by Woods in the third round instantly became a historic moment. 
ADVERTISEMENT
Article continues below this ad
Just a few weeks after winning his maiden Players Championship, Woods then went on to win the 2001 Masters, becoming the first player to win both tournaments in the same year. That is greatness right there.