Bryson DeChambeau Asks Golf Twitter a Simple Question and Receives Overwhelming Response
Published 12/23/2021, 10:00 AM EST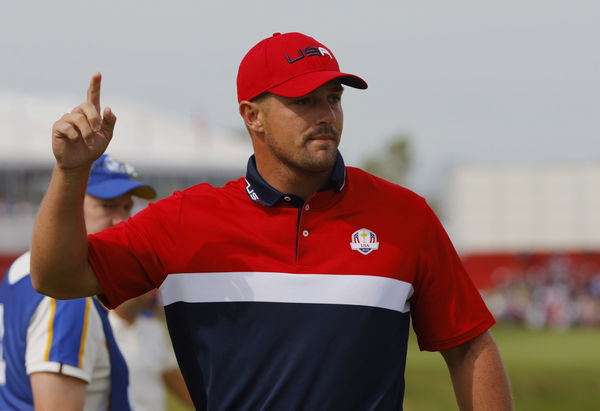 ---
---
Bryson DeChambeau is one of the most prominent golfers on the PGA Tour. He has won eight PGA Tours and a major championship in his career so far. Currently, he is trying to change the game with his power game. Bryson bulked up and is trying to gain some insane clubhead speed, especially with his driver.
ADVERTISEMENT
Article continues below this ad
Along with his golf, Bryson is also trying to be active on social media and get more reach. Bryson is posting stories, photos, videos daily on Instagram and Twitter. Recently, he made an interesting tweet that caught the attention of numerous people.
ADVERTISEMENT
Article continues below this ad
Bryson DeChambeau makes an interesting tweet 
Most golfers are currently keeping their social media accounts active to get the PIP Fund. It is a bonus announced by the PGA Tour and the top 10 players who attract fans and popularize this sport through social media will receive a bonus of $40 million each year. Hence, we see plenty of golfers being active on social media these days.  
Recently, Bryson made a tweet recently and asked fans for their opinion. The tweet said, "What would make golf more exciting for you to watch?" However, in the end, he wrote, "Wrong answers only." 
So, he wanted people to answer this question with a wrong answer. As a result, plenty of people misunderstood this as they couldn't decipher the exact meaning of this tweet. They posted correct answers and told Bryson what they feel will make golf exciting for fans to watch. But since the question was wrong answers only, these replies were void. 
There were a few people who understood the tweet.
Watch This Story: Tiger Woods Yet Again Proves Why He's the Most Popular Golfer in the World
Fans answer Bryson DeChambeau's question
Meanwhile, even though a few fans couldn't decipher, there were a few interesting and hilarious comments from fans under this post. So let us have a look at it.
More guys like @b_dechambeau. You,single handedly, have made the game, more interesting. I've been watching golf for 50 years and "you" are making it more fun to watch, when it needs it. Forget Brooks. He is selfish! Continue to show your love for the game, and be respectful! https://t.co/bYBldcyc4g

— Dave Chisholm (@drchisholm) December 21, 2021
Old school rules, no marking your ball on the green, allowing for stickies, then you would see real feuds happen, maybe even hear another player call the other player an ahole

— rolly benard (@BenardRolly) December 21, 2021
ADVERTISEMENT
Article continues below this ad
Holy shit, can people not understand what Bryson asked here? Wrong answers only 😂

Examples:
-On tv they should bounce around and only show player's pre shot routines for the first couple hours.

— Tex Johnson (@TexJohnson6) December 21, 2021
ADVERTISEMENT
Article continues below this ad
So these were a few comments from Bryson's latest tweet. But what do you think? What would your wrong answer be to Bryson's tweet? Let us know in the comments section.