Bryson DeChambeau, Who Idolizes Tiger Woods, Once Delivered an Intimidating Statement About Playing Together With the Golf Legend
Published 08/13/2022, 9:54 AM EDT
By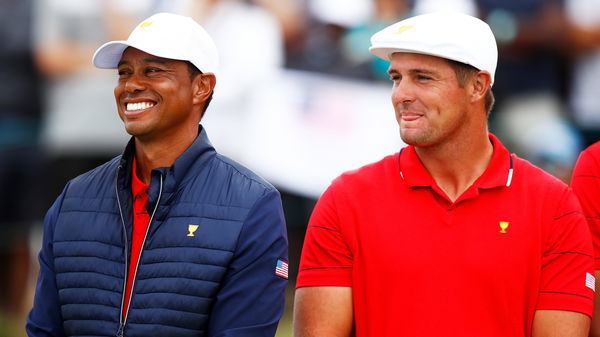 LIV golfer, Bryson DeChambeau, has a knack for forging close relationships with legendary golfers. The 2020 US Open winner maintained a close affinity to 'The King', Arnold Palmer, until his demise in 2016. Having burst onto the scene by winning both the NCAA Division I championship and the US Amateur in the same year, DeChambeau gained a lot of traction in his early days from both the media and the golfers alike. His impressive displays were also a way to reach out to his idol, Tiger Woods, with whom he used to practice regularly.
ADVERTISEMENT
Article continues below this ad
DeChambeau speaks of his experiences with Tiger Woods
ADVERTISEMENT
Article continues below this ad
Before the team selection began for the 2018 Ryder Cup, DeChambeau was among the favorites for a spot as one of the four captain's picks. The 'Mad Scientist' was on the back of a fruitful year, having secured three victories across the season, namely the Memorial Tournament, The Northern Trust, and the Dell Technologies Championship. When asked whether a captain's pick was already in the pocket, DeChambeau had replied, "I have had a great year, would I say it's enough for the captain? That's up to his [Furyk's] discretion."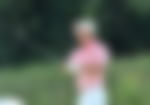 Which raised the question – Had DeChambeau pondered over the list of players whom he'd like to play with? Well, he had and wasn't going to squander this chance of expressing his choice.
"It would be an honor to play with him," DeChambeau had said of Woods. "I think we could have some great chemistry out there and hopefully maybe intimidate some people, that would be nice."
Did Woods and DeChambeau eventually pair up at the 2018 Ryder Cup?
Initially, DeChambeau's efforts seem to have gone to waste. Patrick Reed got the honor of pairing up with Tiger Woods, while Bryson had to be content with another legend, Phil Mickelson. However, defeat to both teams led to a change in structure, with Team USA captain Jim Furyk excluding Mickelson from all pairings in the second round. While Woods paired up with Reed yet again (and lost yet again), he returned for the afternoon foursomes with DeChambeau. The pairing didn't bring any glee, though, as the pair were beaten by the undefeated duo of Team Europe's Francesco Molinari and Tommy Fleetwood.
Are Bryson DeChambeau and Tiger Woods friends?
For a while before the LIV fiasco, DeChambeau remained a regular practice partner of Tiger Woods. "I feel a lot of the things that he says, but we articulate it completely differently," Woods had said about DeChambeau. "It's a lot of fun to needle him and give him a hard time about it, but I definitely respect what he says because of the fact that he does a lot of research. I mean, he is very into what he's doing." The two were good friends on and off the course, but it all boiled over when Bryson decided to join the LIV Golf series, something which Woods has advocated against.
ADVERTISEMENT
Article continues below this ad
The former also revealed that he hadn't had a conversation with Woods since he took up the reported 9-figure offer, something he hopes would change in the near future.
ADVERTISEMENT
Article continues below this ad
Do you think Woods will forgive DeChambeau over his decision to join LIV? Will they ever be on talking terms again? Let us know your thoughts in the comment section below.
Watch this story: Bryson DeChambeau shares an optimistic update about where his game's headed