'Can Barely Move': Golf World Reacts to Former POTUS Donald Trump's Latest Golf Swing
Published 05/26/2023, 1:54 AM EDT

Follow Us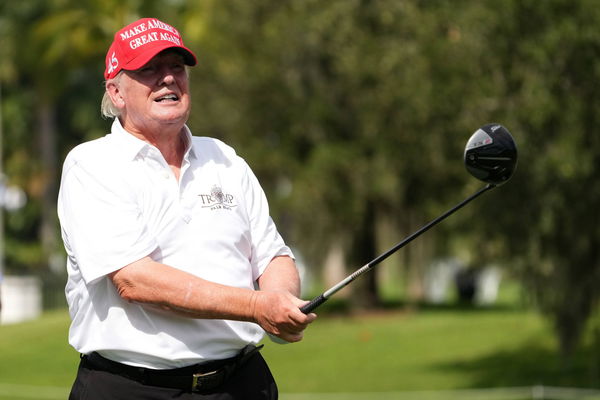 Golf has always been a sport that captivates enthusiasts around the world! The sport has seen many notable figures take to its courses. Of them, perhaps only a few can rival the attention generated by former President Donald Trump. Renowned for his love of golf, Trump's presence on a course is always a topic of interest and discussion among fans. And this time was no different!
Whether it's his swing, technique, or overall performance, the "old-timer" continues to evoke a mix of admiration and criticism. The golfing world is abuzz with opinions about Trump's prowess on the fairways, making him a subject of fascination and curiosity for golf enthusiasts everywhere.
Donald Trump: A swing that sparks debate
ADVERTISEMENT
Article continues below this ad
In a recent video tweeted by Sharla McBride, former President Donald Trump was seen teeing off at the LIV Washington ProAm at one of his own courses, the Trump National Golf Club. The clip of his golf swing quickly drew a range of reactions from fans across social media platforms.
Some fans couldn't help but appreciate Trump's golf skills, focusing on the technical aspects of his swing. There were also those who were simply impressed by the elegance and form displayed in his swing.
Given Trump's age, some fans marveled at his level of athleticism. However, not all reactions were positive. A few fans took a more critical stance, suggesting that Trump's competitive nature might overshadow fair play.
such grace, such form, much wow

— Be4r (@PapaBe4r911) May 25, 2023
While evaluating Trump's golf skills, some fans couldn't help but focus on his physical limitations.
Dude can barely move

— Fantasyjunkie27 (@fantasyjunkie27) May 25, 2023
He's got a good swing and gets through the ball

— Cheech (@Cheech33027339) May 25, 2023
Reacting to Trump's presence on the fairways
In addition to the golf-related comments, there were also reactions focused on the publicity generated by the video. Some fans recognized the promotional value of featuring a former president playing in a golf tournament.
Nice form for an old-timer

— eric forsman (@ericforsman2) May 25, 2023
Free advertising for a golf tournament. Any free advertising
Is good advertising. 😉

— Ideaman@inventitnow (@Inventitnow) May 25, 2023
As with any news involving Trump, there were also individuals who expressed their frustration and disinterest in hearing about him.
My new motto: Anyone reporting Trump news gets a block. Bye.

— Snorre Fagerland (@snoffle) May 25, 2023
Given Trump's age, one fan even marveled at his level of athleticism.
For a guy in his 70s he still has pretty good rotation

— Side Boo night at the Club Chiraq (@IrvingPark56) May 25, 2023
ADVERTISEMENT
Article continues below this ad
Among the fan comments, a prevalent theme revolves around suspicions of cheating, with one claiming that the former POTUS would do anything to win!
I am sure somehow he will be better then all the pros even if he has to cheat

— Dan Covington (@cov1010) May 25, 2023
ADVERTISEMENT
Article continues below this ad
Trump's presence on the golf course, as always, continues to evoke diverse reactions from fans. Whether they admire his swing, question his sportsmanship, or view his appearances as valuable publicity, one thing remains clear: the former President's involvement in golf will always be a hot topic of discussion and garner strong emotions and opinions among the golfing community and beyond.
Watch This Story – Michael Block reveals the implications of Brooks Koepka's warning after $288,333 PGA Championship finish
Edited By: Sheldon Pereira