'Equivalent of a Flu Game' – JR Smith Reflects on His Collegiate Golf Debut
Published 10/13/2021, 1:12 PM EDT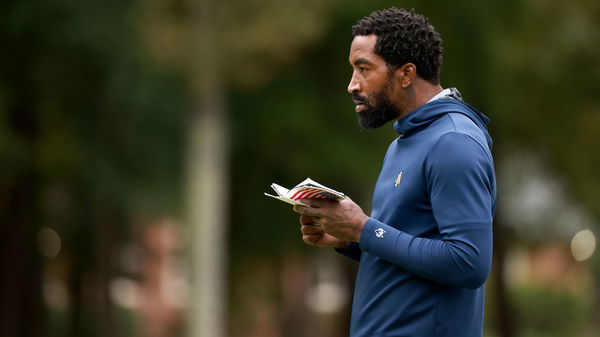 ---
---
JR Smith has had a bittersweet start to his collegiate golf career. The former NBA player was stung by a swarm of hornets, yet completed his round requiring minimal medical assistance on the course. Smith thinks he pulled off an equivalent of Michael Jordan's iconic Flu Game. 
ADVERTISEMENT
Article continues below this ad
NBA fans would need no introduction to the flu game. But for fans who are unaware, Jordan once caught the flu before a game in Utah, yet managed to play and dropped 38 points against the Jazz. 
Jordan also secured seven rebounds, five assists, and three steals, and it's been more than two decades since he put on that memorable performance. But did we just witness the golf equivalent of it on Tuesday? 
ADVERTISEMENT
Article continues below this ad
JR Smith got stepped on a hornet nest when searching for his ball on the 12th hole and was attacked by the pack. He then took a 15-minute break along with his playing partners before resuming. 
"I tried to turn it into a positive," Smith said after the round. "This might be your equivalent of a flu game."
Of course, Smith was referencing the NBA, and he knows he would never face such a situation inside a basketball arena. 
How did JR Smith perform on his debut?
JR Smith is not someone who's been playing golf since his childhood. In fact, it was Sixers legend Moses Malone who first introduced him to the game. 
ADVERTISEMENT
Article continues below this ad
Since then, it has been Smith's personal involvement that has got him to where he is. The 36-year-old was certainly the center of attraction during his debut at the  Elon Phoenix invitational. 
Smith finished 81st on his collegiate debut for North Carolina AT&T, and finished with a 79, the round in which he was stung by the hornets.
Watch This Story
On the first day, Smith shot 83-78 but was the fifth-highest scorer on his team. The Aggies finished 11th in the field, and way behind champions Elon. Smith finished 81st in the 84-man field with a score of 27-over-par for the tournament. 
ADVERTISEMENT
Article continues below this ad
Overall, it was a valuable debut for JR Smith, who could not contribute much to his team's scores during the tournament. However, the two-time NBA Champion is headed in the right direction with his golf game.