Golf Legend Gary Player Is Religious About the Masters Ceremonial Tee Shot: 'I Will Practice for Over 30 Minutes That Morning…'
Published 04/01/2022, 6:45 AM EDT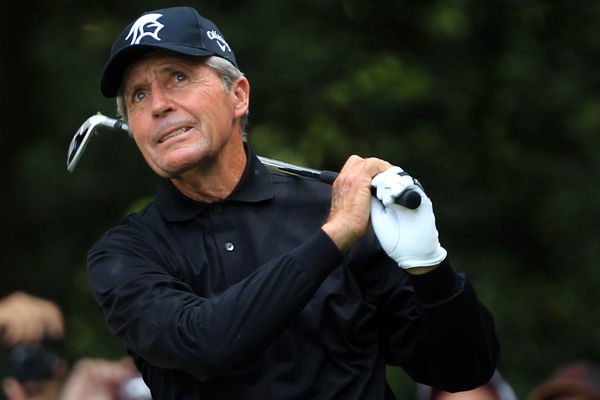 Gary Player's name and The Masters will always be linked together. The PGA Tour legend has himself won three editions of the event, becoming one of the few players to win thrice. Now, an honorary starter for the tournament, Player takes his job very seriously.
The South African icon has been around as an honorary starter since 2012 and is against letting the spirit fade away. Player, who has been playing at Augusta National since Dwight D. Eisenhower was President, isn't shy to admit the butterflies he still feels on the course.
 

View this post on Instagram

 
ADVERTISEMENT
Article continues below this ad
After all, The Masters is easily one of the favorite golf events for fans and players alike.
Gary Player remains excited about his honorary start at The Masters
As per the 86-year-old, he always takes his ceremonial shot seriously. "This is my one shot of the whole week, and I want to hit a good one," he said. "I will practice for over 30 minutes that morning, much of it in the dark."
Eventually, the chairman will call his name, Player will acknowledge the applause meant for him, walk up to the tee, and make the shot.
Adding to that, Player's favorite part is walking toward the tee from the clubhouse. Overall, the support he and Jack Nicklaus receive even today is overwhelming. The two of them, along with Arnold Palmer, have helped build golf as we know it. "I'm getting emotional right now even thinking about it."
Both Nicklaus and Player are irreplaceable in golf, and will always be valued by fans and the community. Even today, their skill and performances are remembered. Making them honorary starters for the major is only the PGA Tour's way of honoring the two stars.
Player on the actual tee shot
Understandably, Player also talks about the actual shot, which does not travel very far. These days, Player's drives apparently go about 240 years. "Not bad. I'm 86 years old! And as competitive as ever," he said. His playful competitiveness against Nicklaus has continued, with the latter being slightly distraught over Player out-driving him.
ADVERTISEMENT
Article continues below this ad
Of course, Player admitted to the other outperforming him during his prime. In fact, Nicklaus has won the maximum number of Masters with six victories.
Furthermore, Tom Watson will also be joining Player and Nicklaus as a starter.
That being said, the players and fans will always cherish memories with Gary Player. His contributions to the field of golf are immeasurable and will continue to inspire generations.
ADVERTISEMENT
Article continues below this ad
Do you have a favorite Gary Player Masters memory? Let us know in the comments below.
WATCH THIS STORY: Michael Jordans Exclusive Golf Course In Florida Clearly Shows The Luxuries Of Being A Billionaire
Edited By: Melroy Fernandes