Golf World Reacts to Phil Mickelson Playing 'Pickleball' in Tom Brady's Brand Apparel
Published 01/16/2022, 7:20 AM EST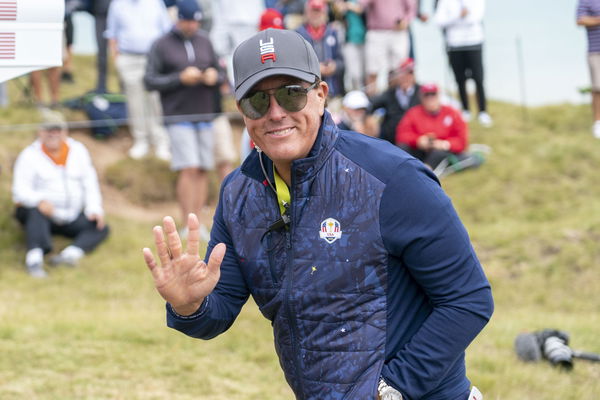 Celebrities use social media to promote their sponsoring brands. They always try to come up with unique ideas to do so. Such a post from Phil Mickelson is making his fans crazy for a lot of reasons. 
ADVERTISEMENT
Article continues below this ad
It took years for the golf legend to get back to his form and win a major. However, when he did it, Phil became the only player to win a major in his 50s. Mickelson underwent many diet programs and extreme exercises to compete with the young golfers. 
 

View this post on Instagram

 
ADVERTISEMENT
Article continues below this ad
Recently, he posted a photo of him playing Pickleball and sporting his favorite brand, Brady Brand, an apparel brand by Tom Brady. Pickleball is a sport similar to ping-pong but played on a tennis court. 
Although Mickelson intended to promote the brand, fans were interested in the pictures. 
Golf world reaction to the social media post of Phil Mickelson
Social media can either make or break your day. The comments you receive from the followers are unpredictable. They can lift your mood or can make it worse. Something like that happened to Phil Mickelson's new social media post. 
Supporting his claims in the caption, one follower on his Instagram commented, "no one looks this good while playing pickleball… but Phil does." Most of his followers on Instagram were nothing but supportive of Phil Mickelson. However, it was not the case on Twitter. 
Pickle ball? I see the 65yr olds playing this in the Del Webb retirement homes. Is this really a thing now? I thought it was like an old person game 😂😂

— Jeff Guy (@Jguy916) January 16, 2022
While some were interested in talking ill about Pickleball, some thought it was a dangerous sport to play on a wet surface.
Don't slip on that wet court and hurt yourself. Another green jacket is waiting for you.

— Paul (@pphilly49) January 16, 2022
Watch This Story: "Go f*ck Yourself." When Phil Mickelson Brutally Destroyed a Country Singer
It's dangerous to play on wet surfaces

— Joel Dahmen (@Joel_Dahmen) January 16, 2022
Some alleged that Mickelson is not even playing the game. Although they didn't say it outright, they asked how Phil could play the sport while facing the wrong direction.
Posed, canceled match from the "inclement" weather

— Jeff Boger (@JeffBoger) January 16, 2022
Although most of the comments were mocking Phil's pictures in one way or other, some people actually appreciated them.
So cool!! Would love to play PB with PM in Florida one day!!

— nelly (@danieniss) January 16, 2022
ADVERTISEMENT
Article continues below this ad
ADVERTISEMENT
Article continues below this ad
What do you think of Mickelson's social media post? Do you think he was actually playing Pickleball or just posing for it? Either way, he does indeed look fit in those apparel.