'Gonna Be Wild': Jack Nicklaus' Insane Career Update Regarding Tiger Woods Sends the Golf World in Raptures
Published 03/05/2023, 2:15 AM EST

Follow Us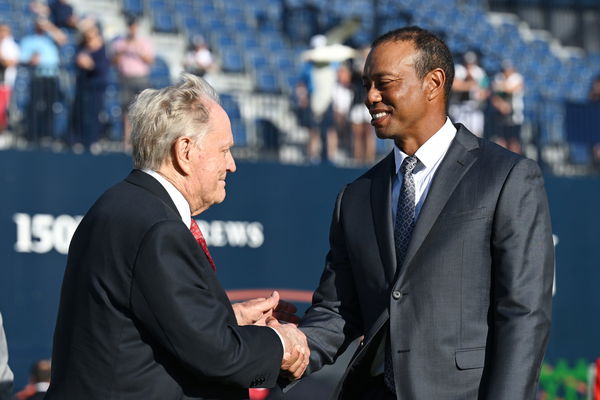 For decades now, Tiger Woods has been the most popular figure in golf. Since he began his professional career as a PGA Tour pro as a 20-year-old, he's grown to make his name synonymous with golf. Now he's 47 years old, and that has forced fans to wonder what the golf legend has planned for the future. Well, they need not wonder anymore, because Jack Nicklaus, Woods' close ally, and confidant just spilled the beans about it. The news left the golf fans thrilled to bits.
Nicklaus gets candid about the future of Tiger Woods
Recently, the 83-year-old golf legend sat down with Nick Faldo on his podcast, 'Sir Nick's Round Table Chats'. There Nicklaus got to talking about Woods and his future in the sport, and it wasn't long before he revealed what the 15-time major winner has planned for his future.
ADVERTISEMENT
Article continues below this ad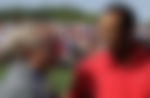 He stated that Woods was inclined towards playing on the Senior Circuit of the PGA Tour once he turned 50. That's in less than 3 years! "He'd love to play the senior tour," he claimed. "That's what I love about Tiger. He's a competitor, he loves competition."
Woods' participation in the Tour of Champions could prove quite fruitful for the 82-time PGA Tour champion. Considering his injuries on the senior tour, he will be allowed to use the golf cart to navigate the course, something he would never do on the PGA Tour. And hence, he could play more competitively and strain his body a lot less. Furthermore, it would prove to be good practice for when he takes the field at the major championships.
Golf World reacts to Woods' future prospects
It excited the fans when they heard Nicklaus mention Woods' plans for the long run. After all, this meant that they would get to see a lot more of the 15-time major winner competing. One even suggested that the senior circuit would be more watched than the PGA Tour itself.
Dude tiger on the senior tour is gonna be wild lol

— Alex White (@alex_white81) March 4, 2023
Champions tour will be more watched than PGA tour events

— Curtis (@curt2439) March 4, 2023
Many were thrilled that Woods would be playing a lot more than he does now. Many fans even shared the belief that playing on the senior tour would be extremely beneficial for the golf pro.
We're really only seeing him play the majors as it is, so I'd love to see him tearing up the Champions Tour to prepare for the majors. Get his competitive juices flowing and fine tuning his game for the majors.

— TigerTigerWoodsYall (@TigerWoodsYalll) March 4, 2023
Best of all worlds!!!…Take a cart and get his competitive feels before majors. Also, the PGA Tour should give him a little ownership stake in it to sweeten the pot.

— Will Smith (@Smittyville1973) March 4, 2023
Some fans even believed that he would set fire to the senior circuit events with his skills. They warned the German golfer Bernhard Langer, who is currently dominating on the Champions Tour, that Woods would be gunning after all his records.
Watch out Bernhard Langer! Tiger's going to break all his records if he wants to.

— Tommy Phillips (@TommyAPhillips) March 4, 2023
ADVERTISEMENT
Article continues below this ad
Watch This Story | Golf World Reacts to Strange Tiger Woods Achievement
Makes total sense. Can dominate the senior tour riding around in a cart

— Golf fan (@TWfan19) March 4, 2023
ADVERTISEMENT
Article continues below this ad
What do you think about this latest revelation about the Tour pro? Will you be watching him tee off on the PGA Tour of Champions in 3 years? Let us know in the comments below.
Edited By: Akash Pandhare