'He Wants To Beat Us So Bad': Collin Morikawa on His Relationship With Tiger Woods and His Competitiveness
Published 07/12/2022, 7:30 AM EDT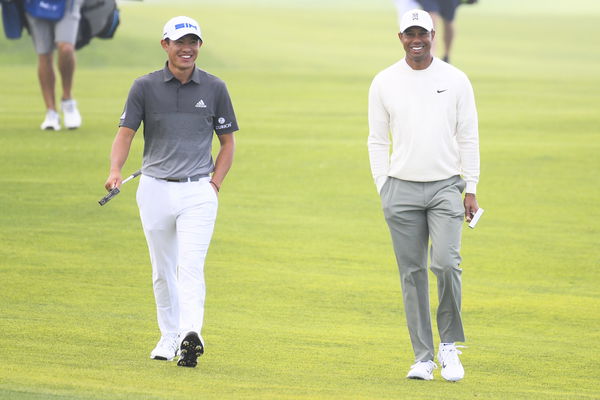 Almost every golfer, professional or amateur, idolizes Tiger Woods since he is widely considered the greatest of all time. And the 2-time major winning champion, Collin Morikawa, was no different. 
ADVERTISEMENT
Article continues below this ad
In his press meet before the 2022 Open Championship, Morikawa revealed how his relationship with his idol is now. Furthermore, he also revealed how competitive the 15-time major champion is with his fellow golfers! 
ADVERTISEMENT
Article continues below this ad
"I am gonna call it friendship. He can call it whatever he wants," the 25-year-old golfer explained his relationship with the legendary golfer. Additionally, he added, "the friendship we have it has gone past the 'I am in awe, I'm in shock,' to you know, now you can joke around." 
According to the defending champion of the Open Championship, he can contact his idol whenever he wants help with anything. "I have never done it. I am actually scared to." Morikawa's sudden revelation got a sudden laugh from the reporters. 
Collin Morikawa is a fanboy of Tiger Woods!
Although he is just 25, Collin Morikawa is the no. 8 golfer in the world, according to the OWGR standings. Turned professional in 2019, he has won 5 titles on the PGA Tour, including 2 majors and a World Golf Championship. 
As a matter of fact, Woods and Morikawa are the only golfers who have won a major and a WGC before turning 25. Although he has achieved all these feats, Morikawa still looks up to the 82-time PGA Tour title champion. 
"It's the coolest thing," the young golfer said in the press meet. He further added, "He's someone that you never thought… maybe thought you get to talk to him and play with him once." Morikawa expressed how unbelievable it is for him to talk to him during competitions or otherwise. 
Is Woods still competitive? 
ADVERTISEMENT
Article continues below this ad
Tiger Woods has been playing golf professionally for almost 26 years. He has won 100+ titles worldwide, including 15 majors and 18 WGCs. While Woods had a successful career, he had it hard, considering all the injuries he suffered and is still suffering because of the sport and the recent car accident. 
Yet, Morikawa thinks that his idol is still competitive to win another title. "All the love that you guys give him, he wants to beat us so bad," he revealed in the press meet. "He's such a competitor. That's what's awesome about him," he further added. 
ADVERTISEMENT
Article continues below this ad
Like Morikawa, Woods is also a part of the 150th Open Championship. Who are you rooting for this time to win the Claret Jug? Let us know in the comments below.
Watch This Story: When Phil Mickelson Detailed His Trash Talk Struggles With Tiger Woods