Hero Open 2021: Complete Breakdown of the Prize Money From Winner to Last-Place
Published 08/07/2021, 12:53 PM EDT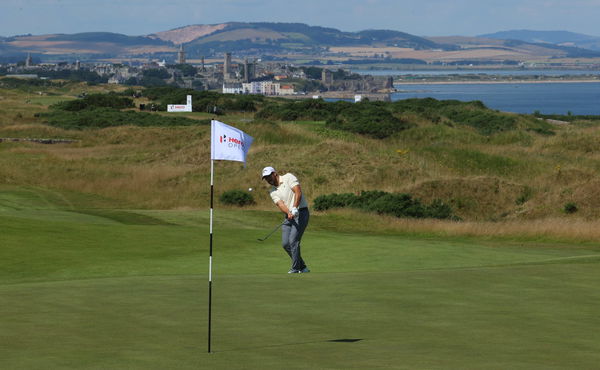 ---
---
This year's Hero Open is off to a promising start and fans are excited about performances from stars like Lucas Bjerregaard and Berry Henson. The tournament started this week with Lucas Bjerregaard coming out on top at the end of Round 2. Bjerregaard made a new course record at Fairmont St Andrews and gave himself a two-shot lead.
ADVERTISEMENT
Article continues below this ad
Bjerregaard had 11 birdies, scoring 10-under-62. He opened Round 1 with a 67, only improving later on. "My putter might be the most valuable thing in Scotland right now," Bjerregaard said. "I've never putted like that and I'm not sure I've seen anyone putt like that. That was pretty special, I'm a happy man right now". 
The course record was initially set by Calum Hill, who had done so with 9-under-par 63 a day earlier. As Round 3 picks up, Calum Hill could regain the top spot on the leaderboard. However, even Scotland's Grant Forrest is off to an incredible start, maybe even beating Hill in Round 3.
ADVERTISEMENT
Article continues below this ad

Henson also made the news with his impressive game, probably playing the best course in his career.
The Hero Open 2021 offers prize money worth €1,250,000. As per the European Tour's money distribution chart, 16.67 percent payout will be given out to the eventual champion. Naturally, the winner of the tournament gets the highest share of the prize purse.
Winner's payout at the Hero Open 2021
ADVERTISEMENT
Article continues below this ad
| | |
| --- | --- |
| POSITION | PAYOUT |
| Winner | €208,330 |
| Runner-up | €138,888 |
| Third place | €78,250 |
| Fourth place | €62,500 |
| Fifth place |  €53,000 |
The winner will be earning €208,330 from the tournament, the above-mentioned 16.67% share of the purse. The second place is awarded €138,888, and the third place takes home €78,250. Additionally, there are other perks that come along with winning the tournament, besides just the prize money.
Complete breakdown of the €1,250,000 prize purse
ADVERTISEMENT
Article continues below this ad
1. €208,330
2. €138,888
3. €78,250
4. €62,500
5. €53,000
6. €43,750
7. €37,500
8. €31,250
9. €28,000
10. €25,000
11. €23,000
12. €21,500
13. €20,125
14. €19,125
15. €18,375
16. €17,625
17. €16,875
18. €16,125
19. €15,500
20. €15,000
21. €14,500
22. €14,125
23. €13,750
24. €13,375
25. €13,000
26. €12,625
27. €12,250
28. €11,875
29. €11,500
30. €11,125
31. €10,750
32. €10,375
33. €10,000
34. €9,625
35. €9,375
36. €9,125
37. €8,875
38. €8,625
39. €8,375
40. €8,125
41. €7,875
42. €7,625
43. €7,375
44. €7,125
45. €6,875
46. €6,625
47. €6,375
48. €6,125
49. €5,875
50. €5,625
51. €5,375
52. €5,125
53. €4,875
54. €4,625
55. €4,375
56. €4,125
57. €3,875
58. €3,750
59. €3,625
60. €3,500
61. €3,375
62. €3,250
63. €3,125
64. €3,000
65. €2,875