'I Don't Normally Shed…': After Amy Mickelson Overcame a Stern Challenge of Battling an Ailment Phil Mickelson Publicly Broke Down While Sharing an 'Emotional Moment ' With His Wife at the 2010 Masters
Published 12/25/2022, 7:30 AM EST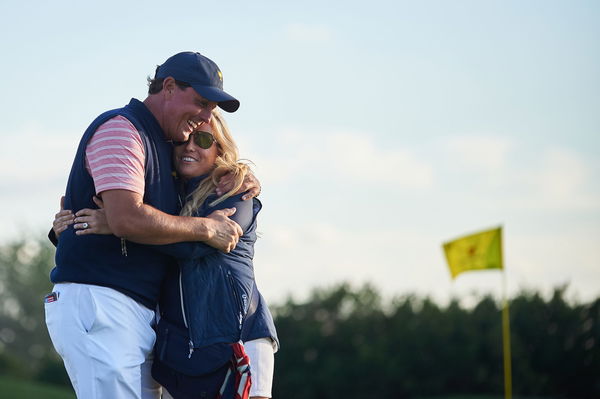 The venue of the Masters Championship, Augusta International, is very dear to Phil Mickelson. It was his second home and was the perfect setting for him to win the championship in 2010. His victory that day became an emotional family moment for him when his wife showed up with the kids to witness him play. The pro golfer carded three shots down the final nine holes, then hugged and celebrated his victory. 
His final winning shot was a birdie putt from 10 feet away, and there stood the winner. He started on a hugging spree with his caddie, Jim McKay, on the green and finished and finished the hug-fest with his wife. She buried her head into his right shoulder, and a tear rolled down his left cheek. It was an emotional moment because his wife, Amy, had been diagnosed with breast cancer a year before. She had been battling it, and it was unexpected for her to come to see Mickelson.
ADVERTISEMENT
Article continues below this ad
Phil Mickelson loves his wife dearly
Mickelson could not believe his eyes when he saw his family supporting him. He was overwhelmed; however, he did not let their presence distract him. Eventually, the pro won. He later expressed his feeling about seeing his wife on the course. The former PGA pro was not the guy who would generally shed any tears. But that moment made his tear glands active. He said, "I don't normally shed tears over wins, and when Amy and I hugged off 18, that was a very emotional moment for us and something that I'll look back on and just cherish," he said. "I'll cherish every moment of this week."
His tears were evidence of his life for his wife. And not just love that was reflected in his eyes, but pride, too. He never imagined his wife to show up, as she was going through a lot. However, he revealed the hardships during the Green Jacket presentation at Butler Cabin. Things were hard for the Mickelson family since they diagnosed Amy with cancer. And overall, it was a very emotional moment for him. He expressed his feelings, "It's been an emotional year, and I'm very proud of my wife and the fight and struggle she's been through. It's been a difficult year, and to come out on top in this tournament is very emotional."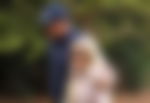 The LIV defector never expected his wife to show up. Amy was too weak to attend the event because she was on her cancer medication. However, his children showed up for all the rounds. His wife stayed at their rented house. But on the last day, she entered Augusta as a lucky charm for her husband. And the world witnessed true love during the Masters.
ADVERTISEMENT
Article continues below this ad
Mickelson's words of appreciation for his wife
In 2009, after Amy was diagnosed with breast cancer, Mickelson returned to the US Open. Before that, he pulled out of a handful of tournaments. He talked to 'People' and expressed his ordeal dealing with his wife's cancer. The major championship winner and his family went through tough times, but he loved his wife.
Not only because she was his wife, but because of the kind of person she was. According to Mickelson, Amy is an angel that touches people's hearts. "She touches people in a way that people don't get touched. It's just right to the heart. She has a way to have an impact on people."
ADVERTISEMENT
Article continues below this ad
Watch this story- When Phil Mickelson Went All Out During His Wife Amy's Birthday Celebrations
The words from Mickelson are heart-touching. The couple loves each other and has always been supportive. We wish them luck in future endeavors.
Edited By: Manaal Siddiqui