'I Got a Few Tears': Despite Being Tough, Jack Nicklaus Once Cried 'Like a Baby' After Witnessing His Grandson Achieving a Huge Accolade
Published 12/26/2022, 9:30 AM EST

Follow Us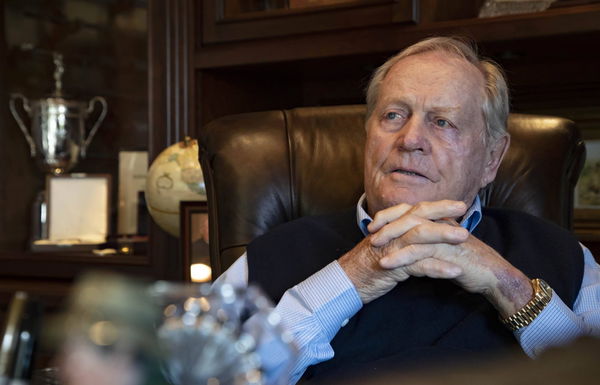 Numbers have long followed Jack Nicklaus between the gallery ropes and served as instant reminders of his prowess. In his golf journey, he registered 18 major titles. Six green jackets are proof of his legendary journey. And all these numbers speak the story of him where he served as a colossal capstone to a distinguished career. Even though Tiger Woods has been trying to break his record, he is still three major wins away.
However, his family has always been a priority for the retired pro golfer. Despite all the number of victories, only two numbers are most important to him. That is number 5 and the number 22. You might wonder why. It is because 5 is the number of his children, and 22 is the number of his grandkids. Yes, he has an adorable, extensive family. And there was a time the legend cried "like a baby," and the reason was his grandson.
Why did Jack Nicklaus cry?
ADVERTISEMENT
Article continues below this ad
It was a glorious moment, not for golf legend Jack Nicklaus but for a grandfather. His grandson Gary G.T. Nicklaus Jr won the Par 3 Contest by making a hole-in-one at the ninth hole in 2018. And that was when the "Golden Bear" shed tears of happiness and cried "like a baby." His then 15-year-old grandson was a talented junior golfer and vocalist. And the most amazing part was that G.T. carded the shot wearing a caddie bib. However, it was a complex job. He said that he practiced hitting the shots on the driving range. All this effort was to make sure he could move the ball while wearing a caddy bib.
G.T. celebrated his shot by raising his hands and first hugged his grandfather. Nicklaus is a six-time Masters champion; however, all his victories felt like nothing in front of his grandson's shot. He downplayed his accomplishments and shed tears. While talking to ESPN, Nicklaus said, "What I did doesn't make any difference to me. Watching your grandson do something, it's really special." He admitted, "I got a few tears." 
ADVERTISEMENT
Article continues below this ad
It was a golden moment for the greatest golfer to witness his grandson's skills. Even though golf was in his genes, it was great to see him on track. G.T. wore a caddie bib and was carrying his grandfather's bag. He then suddenly made history at Augusta National. At par 3, Nicklaus's grandson stepped up to the ninth hole and carded the perfect shot. The ball swung high, landed on the green, and slowly rolled into the hole.
ADVERTISEMENT
Article continues below this ad
Watch this story- Golf Legend Jack Nicklaus Empathized With Naomi Osaka and Had Advice for 'Young People' After Her French Open Controversy in 2021
Looking at your loved people flying high in the sky is a feeling one cannot express in words. But tears of happiness can do the work.
Edited By: Jayant Chhabra