Inside Tiger Woods' Luxurious $20M Yacht Named 'PRIVACY'
Published 08/24/2021, 1:30 PM EDT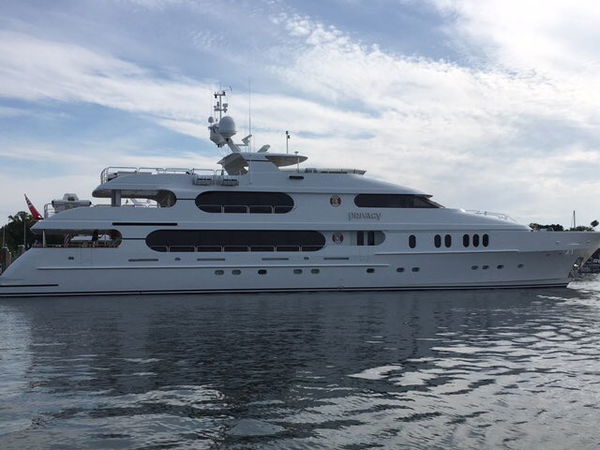 ---
---
Tiger Woods is one of the richest athletes in the world. His wealth is a combination of the prize money he won, his endorsement deals, and the countless luxury items he owns. His Florida home is said to be $54 million, complete with a golf course and many more amenities. Another such asset Woods owns is his luxury yacht.
ADVERTISEMENT
Article continues below this ad
While he bought it years ago in 2004, the yacht named "Privacy" is worth millions. Let's take a closer look at his yacht, checking into all the details that make the luxury vessel so special.
Tiger Woods' yacht is worth $20 million
ADVERTISEMENT
Article continues below this ad
The entire yacht is apparently 155 feet long, consisting of three floors. Reports add that while the main deck is primarily used, there is a second level, along with the top deck – used as an observation deck. As mentioned above, Woods bought it in 2004, costing him around $20 million.
The spacious yacht also has five bedrooms in total and is capable of housing around 10 people. This does not include bedrooms allotted for the crew on board, making the actual count a bit higher. The total number of crew members on the yacht is nine. There are nine total bedrooms on the yacht.
Of course, the yacht would not be complete without a list of activities for Woods and any gusts he decides to have over. It has a gym, along with a decompression chamber for scuba diving. There is an eight-people jacuzzi on the deck, complemented with a bar. The deck also boasts a cinema of its own.
ADVERTISEMENT
Article continues below this ad

Looking at a more technical side, the yacht can hold around 12 thousand gallons of gas. The engine is a twin, 1,800 one, and requires large amounts of fuel. It can go up to 4,000 nautical miles and can take Woods to and from his house in Jupiter Island, Florida to the Long Island and back. It travels at a speed of 16 knots and can go up to 18 knots. Of course, its size prevents it from traveling at a faster speed.
It also has space for motorized scooters, two kayaks, and three jet skis.
Woods has stayed in his yacht during the 2019 PGA Championship, and the 2006 and 2018 US Opens. The 2019 event had the yacht docked at Long Island, drawing quite some attention to itself.
ADVERTISEMENT
Article continues below this ad