'Is This Real?': Golf World Left in Shock After Old Picture of Tiger Woods' Bizarre Hairstyle Goes Viral
Published 09/22/2022, 11:30 AM EDT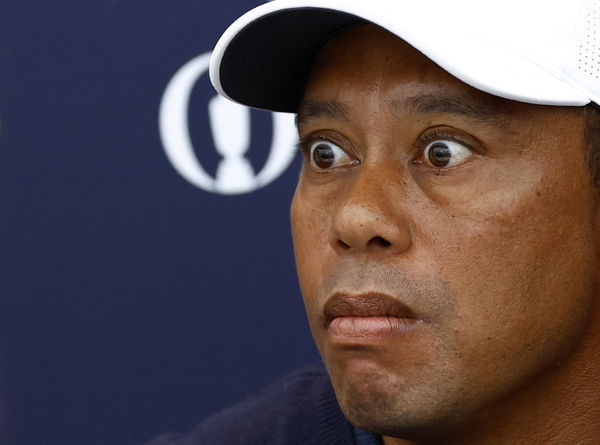 Tiger Woods is a golf legend who has conquered many feats in the field of golf. But the 15 time Major winner can sometimes surprise us with some of his antics. One such thing happened with Woods' choice of hairstyle in a picture that went viral, which left the fans in utter shock!
ADVERTISEMENT
Article continues below this ad
Old pictures of Tiger Woods have been resurfacing and going viral and fans have been quick to comment on them.
ADVERTISEMENT
Article continues below this ad
Bizarre pictures of Tiger Woods
Shane Bacon, the golf nerd, shared his favorite Presidents Cup moment on Twitter. It had Tiger Woods in the frame with a very different and unexpected hairstyle. Fans went into shock and could not believe it. He was in a formal blue blazer with a tie but his hair was completely bizarre.
We have seen him in his signature red t-shirt on Sundays, but this was a look which no one expected. As is evident from the pictures, the former No. 1 has blonde hair patches among his black hair. This scene was something that Woods' fans never imagined they would see.
The internet went crazy about his unseen hairstyle and swamped the comment section with their views.
Fans react to Woods' shocking pictures!
The reaction from Woods' fans was not very surprising. Certain fans were incredulous and thought, at first, that the picture was edited or fake. Some fans came up with more unseen pictures of Woods in different hairstyles. Woods' fans got so curious about his iconic hairstyle that they wanted to know the year that the concerned picture was taken.
Some even thought that this blonde patchy look resulted from some bet that he apparently must have lost. And this was not the only time when he chose blonde over black. Once he went completely blonde.
Just goes to show how " important" the Presidents Cup is! 🤔

— KnightsofGolf (@Knightsofgolf1) September 22, 2022
Presidents cup takes away from Ryder Cup! End it! Neither are worth watching anymore! Was never exciting, just interesting! Now there is a new and better game in town! The tours should be inclusive! Monahan handled all really badly, along with soyboy Rory!

— rb43605 (@rb43605) September 22, 2022
ADVERTISEMENT
Article continues below this ad
Fans tried desperately to find answers, but to their bad luck, they couldn't find any reason why Woods would chose such a bizarre hairdo. Some fans dug up other pictures of a blonde Tiger Woods to add to the amusement. Some fans simply didn't care for the image. However, they focused more on the Presidents Cup. According to them, the Presidents Cup takes away from the Ryder Cup. It was only exciting for sometime and now has no relevance.
ADVERTISEMENT
Article continues below this ad
Watch this story- Why 49ERS Start Deebo Samuel Wore a Tiger Woods' Shirt Under His Jersey?
What do you think about Woods' hairstyle in these bizarre pictures? Let us know your thoughts in the comments section below.