JR Smith Reveals the Legendary Athlete Who Introduced Him to Golf
Published 10/09/2021, 2:07 PM EDT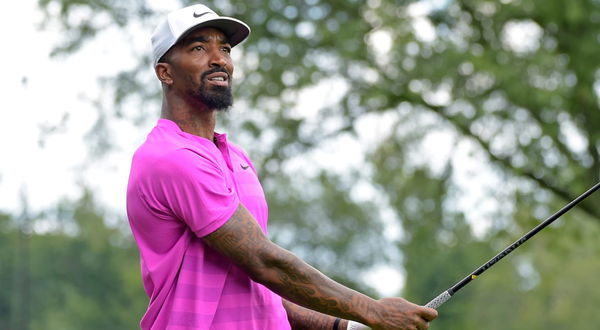 ---
---
JR Smith is all set to make his college golf debut next week in North Carolina. Meanwhile, JR Smith has played in the NBA for around 16 years and recently retired from the sport. However, the former NBA player enrolled himself at the North Carolina A&T to complete his education and play for the men's golf team. 
ADVERTISEMENT
Article continues below this ad
He will be competing on October 11 at the Phoenix Invitational hosted by Elon University. Moreover, Smith earned himself a spot in this event after qualifying in the practice with one stroke. But who introduced JR Smith to this magnificent game of golf? Let's find out. 
ADVERTISEMENT
Article continues below this ad
Who introduced JR Smith to golf?
JR Smith recently appeared on OffCourse with Claude Harmon. There he was asked about who introduced him to the game of golf? "Moses Malone, rest in peace," said Smith. Moses Malone is a legendary basketball player who also had taken up golf after his retirement.
Moreover, Smith continued. "I was in Houston working out with John Lucas. Richard Lewis, his first foundation event, was a golf outing event. And for me, I never played golf. I told him I don't play golf. It's not my thing. He's like, Nah, man, just come on, you just ride around and take some shots and whatever. And I am like cool. Sounds like a good time." 
 

View this post on Instagram

 
"So I was doing that, and I pulled up on Moses Malone's group and he, sure enough, said, Young fella, come hit this ball. So I was like, yeah, sure, I will hit the ball." But as he had never played this sport before, Moses Malone showed him how to hold the club and swing it.
ADVERTISEMENT
Article continues below this ad
Watch This Story: Bryson DeChambeau Draws Interesting F1 Tire Analogy to Defend His Controversial Statement
"So then I hit my first shot down the fairway about 300 yards. Everybody's shocked, and I am like, it's easy. It ain't that hard." However, after some time, when Smith once again went towards Malone's group, he was telling everyone about Smith's shot and said, "Man, you gotta see him hit this ball." 
Watch This Story
However, when he tried to hit the ball the second time in front of everyone, he couldn't hit it. "It was so frustrating. It was so frustrating," described Smith. So, this is how Moses Malone played a huge role in introducing JR Smith to golf.  
ADVERTISEMENT
Article continues below this ad