Justin Thomas Makes a Humble Plea Towards the 'Cry Me a River' Singer as He Tries to Escape the JT Loop, Fans React
Published 03/18/2023, 8:15 AM EDT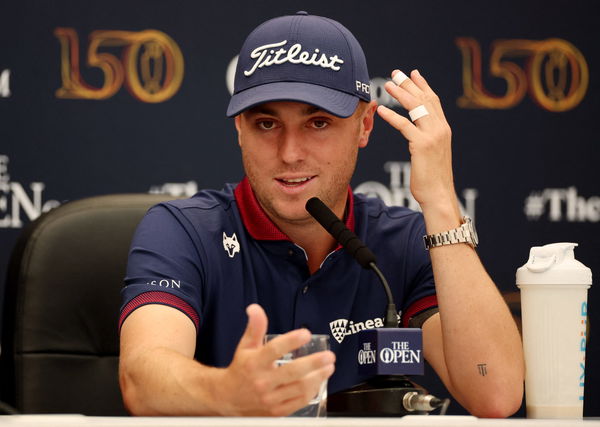 Golf fans are still not over the recent Tiger Woods and Justin Thomas 'tampon prank'. However, the former FedEx Cup champion is in the news again for something new. And it involves two-time PGA Tour winner, J.T. Poston and his caddie. Moreover, there is another JT in the picture now! And fans are giving all kinds of crazy reactions to it.
Justin Thomas and a whole bunch of other JTs
Thomas, 29, was having a lot of fun at the 2023 Valspar Championship when he decided to make a side bet against Poston. According to the rules of the bet, the caddie of the losing JT would have to wear a bib saying "The Other J.T.". And guess what? Thomas claimed a one-shot victory in their individual matchup.
ADVERTISEMENT
Article continues below this ad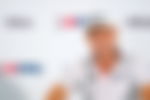 Keeping the bet alive, Poston posted a picture of Thomas handing the hilarious "Other JT" bib to Poston's caddie. "@JustinThomas34 clipped me today so I guess I'll wear it the rest of the week. @AaronFlener," he wrote. While Thomas retweeted the picture and wrote, "Huge putt on the last to clip @JT_ThePostman by 1 today. Gives me full "JT" bragging rights for tomorrow".
Fans were still laughing at what was going on between the two on the field. And to make things even more hilarious, American singer-songwriter, Justin Timberlake, (another JT!), decided to be part of the fun. "I've entered the comments.", he wrote under Thomas' tweets. Reacting to the singer's comment, Thomas replied, "Cmon man…can't you just let us have one week!!! 😂"
Golf fans react to Thomas' hilarious response on Twitter
While all these famous folks were sharing it all on social media, why would the fans hold back? And so, golf enthusiasts started giving tons of reactions to the entire thread. To add to the fun, fans started tagging all the other JTs they knew, including Justin Turner and John Tillery. Even famous golf journalist, Jamie Weir commented and tagged another JT, Ex Chelsea captain, John Terry in the comments! On the other hand, a fan even named the entire situation a "JT inception".
Here's how some of the fans reacted:
gentlemen would settle this at the Grove as a televised match for charity

— Wesley B. Hartline (@WesHartline) March 18, 2023
This is the content I'm here for.

— 👑 Mrs. Bozzie (@MrsBozzie) March 18, 2023
ADVERTISEMENT
Article continues below this ad
ADVERTISEMENT
Article continues below this ad
Well, there just seems to be no end to the ongoing JT situation. And there are still tons of 'other JTs' who are still not mentioned in the comments. Can you think of another person named JT? Let us know your picks in the comments section below!
Watch This Story: Justin Thomas Breaks Silence on Golf's Latest Controversy With Harsh and Selfish Confession
Edited By: Manaal Siddiqui