'GOAT Move': Golf World Reacts to Greg Norman's Latest Tiger Woods Revelation
Published 06/06/2022, 3:00 PM EDT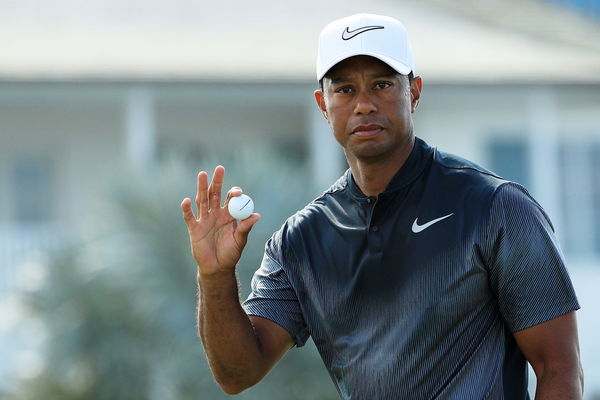 The LIV Golf Invitational Series will begin in a couple of days, and the officials have been revealing more information about it lately. Last week the Saudi-backed league shocked the golf world by revealing Dustin Johnson as one of the players to play in its inaugural event. However, this week, they surprised the fans by disclosing how much money they offered Tiger Woods to join the league!
Former world No. 1 golfer and present LIV Golf CEO Greg Norman revealed the money the company offered Woods to play in the Series. According to him, it was a "mind-blowingly enormous" offer that the 15-major winner rejected. "We're talking about high nine digits," Norman disclosed. 
ADVERTISEMENT
Article continues below this ad
According to reports, Dustin Johnson received an offer of $125 million from LIV Golf to play for its event. Notably, the former world No. 1 had sworn his full commitment to the Tour a couple of months ago. Nevertheless, when the officials released the field list of its inaugural event, Johnson's name was on it. 
The LIV Golf inaugural event will begin on June 9, and the Centurion Club of London will be hosting it. Notably, after Johnson agreed to have an alliance with the league, one of his sponsors, RBC, dropped him. 
Many prominent names like Sergio Garcia, Lee Westwood, and Kevin Na will also be playing in the London event. 
Why did Tiger Woods turn down the massive offer from LIV Golf? 
"I've decided for myself that I'm supporting the PGA Tour," Woods explained his commitment to the Tour. "That's where my legacy is," he stated.
According to him, he has played several tournaments and won the most on the Tour. Woods also has won 15 major championships. Since the Tour provided for the success of his career, Woods pledged allegiance to the league. 
Rory McIlroy and Justin Thomas are some of the others that agreed with Woods and chose to stay with the Tour. 
Fans' reaction to Woods rejecting the nine-digit offer!
Although Norman didn't reveal the actual amount, he did mention that Woods rejected a very big amount. Since many PGA Tour fans don't like the league, they loved that the GOAT didn't take that offer. Hence, they expressed their respect for the golfer through their comments. 
Amen. A man with a legit legacy.

— TheButcher854 (@thebutcher854) June 6, 2022
We love you Tiger😍😍😍👏👏👏🐆

— Marilyn Rivera (@Marilyn95760952) June 6, 2022
Now I have more respect for Tiger.

— MickBrit25 (@MickBrit25) June 6, 2022
Woods has done a lot for the game of golf and continues to do so. #Respect

— ((( Rick ))) (@rickr541) June 6, 2022
Top man Tiger, he knows where he was raised in the game, he knows he made his money from this tour and wants to give something back🤩👍🙏🐯 would have been easy to accept a huge pension pot but refrained👍🙏☝ integrity fully intact.

— Simster (@Simster45) June 6, 2022
When they gave DJ a boat load of money I just knew that they offered the Big Cat the entire bag.

— jabba2711 (@jabba2711) June 6, 2022
Some even tried to guess how much LIV Golf might have offered him.
Should be at least a billion. Think they said 500 million?

— Larry Weiner (@larrywpatriot) June 6, 2022
ADVERTISEMENT
Article continues below this ad
ADVERTISEMENT
Article continues below this ad
Do you have an idea of how much they offered Tiger Woods to join the league?
Watch This Story: Phil Mickelson Once Made an Honest Confession About Tiger Woods