'Must Be Desperate': Phil Mickelson's Unique Jordan Kicks Leaves Golf World in a Puzzle
Published 02/27/2023, 10:19 AM EST

Follow Us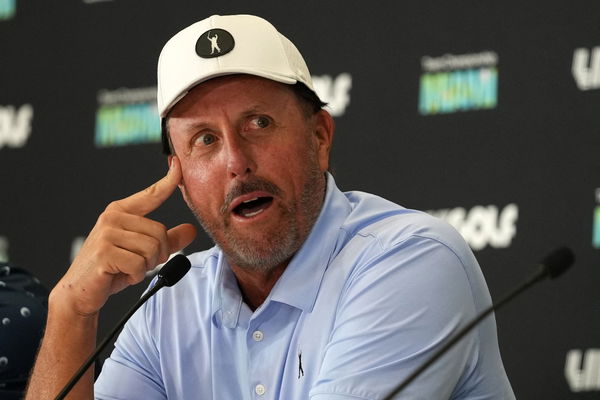 Phil Mickelson is by far the most controversial player on the LIV Tour. The 6-time major winner has thrashed many legendary golfers and even the PGA Tour since his resignation. He has spoken up about LIV Golf providing him the freedom and independence he never experienced at the PGA Tour.
Moreover, he also delivered backhanded compliments to fellow golfer Tiger Woods. Wherein he passed some criticisms about his equipment. However, now Lefty is going viral for using the product of a brand that is endorsed by the legend.
What did Phil Mickelson wear to the Mayakoba event?
ADVERTISEMENT
Article continues below this ad
The internet broke when Lefty was spotted wearing Nike shoes to LIV Golf's Mayakoba event. 
Last year, when everyone was slamming Mickelson for his move to LIV Golf, he decided to trash the PGA Tour and the golf legend. Moreover, he said Tiger is a legendary player because only he can work with inferior equipment. Which was a direct shot at his Nike endorsements. 
Nike has been a partner of Woods since 1996. The GOAT wore Nike sneakers to all the golf tournaments before his accident. Moreover, he switched from Titleist to Nike driver and irons. Woods has won six majors with the Nike ball, two of which were with a Nike driver. He set a scoring record in his first event with the company's irons.
However, him wearing the shoes of the same brand he called out to be a year just a year ago, is something no one expected to see. Furthermore, this has given golf fans the golden opportunity to roast the former PGA Tour golfer.
Wonder if he got discount on them or had to pay full price.

— Juan van der Linden (The Provider) (@JuanvdLinden) February 27, 2023
Must be desperate for money again and trying to get Nike to offer him a contract!

— mike (@ltmichaelj) February 27, 2023
But finishing over par is exactly what you knew you would see

— KLoeb (@k_loeb) February 26, 2023
Guessing he bought them at Foot Locker

— Randy Hall (@RandyHa69195220) February 27, 2023
Take more than new shoes to get his game back

— From The Great White North (@dmcl1939) February 26, 2023
And he shot plus one in this week's Pro-Am

— the big sizzle (@darealbigsizzle) February 27, 2023
ADVERTISEMENT
Article continues below this ad
Bob Wood, the president of Nike golf, noted that in terms of driving statistics, Tiger improved in all three categories listed, while Mickelson's performance declined. Therefore, Mickelson's assertion was completely bogus.
Watch This Story: Tiger Woods Remorsefully Admitted to 'Living a Life of a Lie' After Receiving a 'Brutal' Treatment From His Mom and Elin Nordegren Back in 2010
ADVERTISEMENT
Article continues below this ad
Phil later retracted his statement and said that his aim was not to target any manufacturer. However, he was just trying to appreciate the golf great's talent and skills.
Edited By: Gideon Mathson