Nelly Korda Rubs off Claims Stating She Gets Affected by Her Family's Success: 'Won't Make My Play Any Better'
Published 01/21/2023, 5:08 AM EST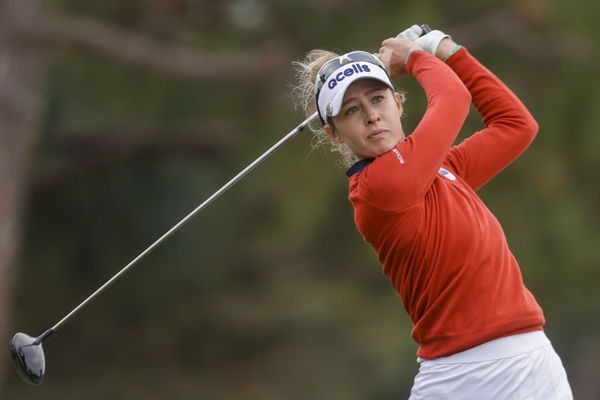 The LPGA pride, Nelly Korda, was born and brought up surrounded by sports. Both of her parents were top tennis players. Her sister Jessica Korda plays golf like her, and her brother Sebastian Korda followed his parent's footsteps. Despite being busy with Hilton Grand Vacations TOC, she happily welcomed some good news about his brother.
After finishing her second round at the tournament, she talked to reporters about her performance and her brother's news. The ATP singles tournament winner, Sebastian, finished on top of the leaderboard at the Australian Open. However, since Korda has been busy playing at the Lake Nona Golf & Country Club, did she celebrate her brother's success? Did it affect her performance? Let's find out.
How did Nelly Korda focus on her game?
ADVERTISEMENT
Article continues below this ad
Despite being slightly frustrated with her second-round performance, she proved her worth. However, the reporter asked if the family's success affected her or her game in any way. She denied it and said it was a happy morning for her and her family. Korda accepted that she was in a "better mood" relatively. However, she kept herself from being overwhelmed by the news and lost focus. She recently switched to new clubs and was already playing great with those, and she did not want to de-track herself.
Explaining her golf strategy to eradicate distractions, she said, "once I hit — step foot on the first tee, I'm in my own bubble, and it's game time." She said that her brother's achievements would not give her any success.
ADVERTISEMENT
Article continues below this ad
"His play won't make my play any better." Explaining more logical reasons to focus on her game, she said, "It's just going to put you in a better mood. That's about it. If you make a birdie on the first hole, sure, it'll put me in a good mood, too. Once I made that bogey, whatever he did and the good mood I was in previously is gone."

Even though Sebastian's news brought her happiness, she still has to focus on her game. Instead of just being in a good mood.
It proves that Korda is logical; however, she is still a sister. She knew that the TOC was waiting for her, but she decided to watch her brother play. In the same interview, she explained her ordeals. The golfer woke up 30 minutes before her alarm in the morning. She watched her brother Sebastian play and win despite having a tournament of her own to play later in the day. She expressed admiration for her brother's hard work and the support system he has, and she also expressed her happiness for his success.
ADVERTISEMENT
Article continues below this ad
Watch This Story- Nelly Korda Breaks American World Ranking Record 
What are your expectations from Korda's upcoming round at the tournament? Let us know your thoughts in the comments below.
Edited By: Manaal Siddiqui