'Sign Me Up': When $250M Worth Tom Brady Was Eager To Try the 'Phil Mickelson Method'
Published 08/24/2022, 3:30 PM EDT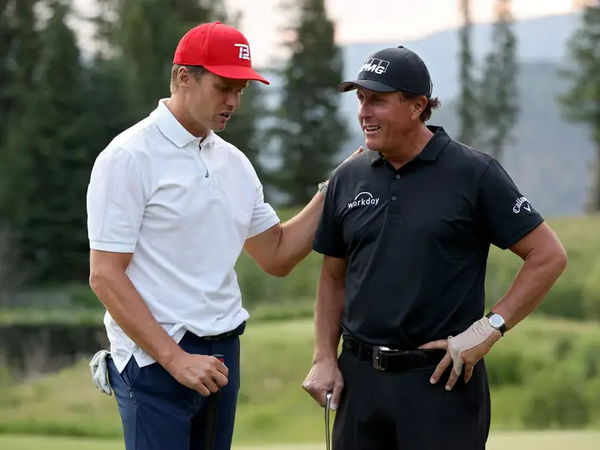 Though Phil Mickelson may not have the best of physiques, he sure does have decent calves. Back in 2019, the golfer had a banter session on Twitter with his good friend and 7 time Super Bowl Champion Tom Brady. And like most of his humorous jokes, Mickelson joked about helping Brady in building stronger calves.

Despite being in different sports industries, both Mickelson and Brady have developed a great relationship over the years. Brady is an ardent amateur golfer himself. After competing against each other during the 2020 installment of 'The Match', the duo teamed up the following year.
Nonetheless, a year before their face-off, both stars had a witty exchange on Twitter, which started from a tweet from the famous football journalist Ian Rapoport. The tweet was about Brady, who back then was still part of the New England Patriots, had gotten himself into a calf injury while training. This is when the 6 times Major Champion Lefty decided to support his good friend.
Phil Mickelson helped Tom Brady in getting jacked calves?
ADVERTISEMENT
Article continues below this ad
During the 2019 season, he faced a minor calf injury. However, he did not miss any of the games that season due to injury. But his injury announcement did ring bells around the world of sports. When Rapoport tweeted, "Patriots QB Tom Brady was limited in today's practice with a calf injury", everyone was concerned about Brady.
However, Mickelson decided to sarcastically offer Brady help in building his calves. He tweeted, "I'm on standby for a flight to Boston. Let's not let inadequate calves hold us back". Following the tweet, the then 6-time Superbowl champion responds by tweeting, "The Phil Mickelson Method… for jacked calves? Sign me up".
ADVERTISEMENT
Article continues below this ad
Phil Mickelson then boosts Brady's morale by tweeting, "I feel #7 is on its way!" After a dreadful final season with the New England Patriots in 2019, the then 43-year-old Tom Brady decided to move to Tampa Bay Buccaneers to start a new chapter in his already legendary career. And much like Mickelson's words, Brady went on claim his 7th ring the following season.
Both stars have engraved themselves as the most successful athletes in the world of sports. Age is just a number for both the stars, as Brady won his 7th Super Bowl at the age of 42, while Mickelson became the oldest player ever to win a Major at the age of 51, after winning last year's PGA Championship. Little do we know, they still must have got a lot more to offer.
ADVERTISEMENT
Article continues below this ad
Would you have the putting skills of Mickelson or the quarterback attributes of Brady? Let us know in the comments section below!
Watch This Story: PGA Tour Commissioner Has a Message for Phil Mickelson
Edited By: Manaal Siddiqui