Phil Mickelson Gets a Taste of His Own Medicine Hours After His Twitter Feud With Famous Golf Analyst, Golf World Reacts: 'What a Clown'
Published 05/26/2023, 6:25 AM EDT
By

Follow Us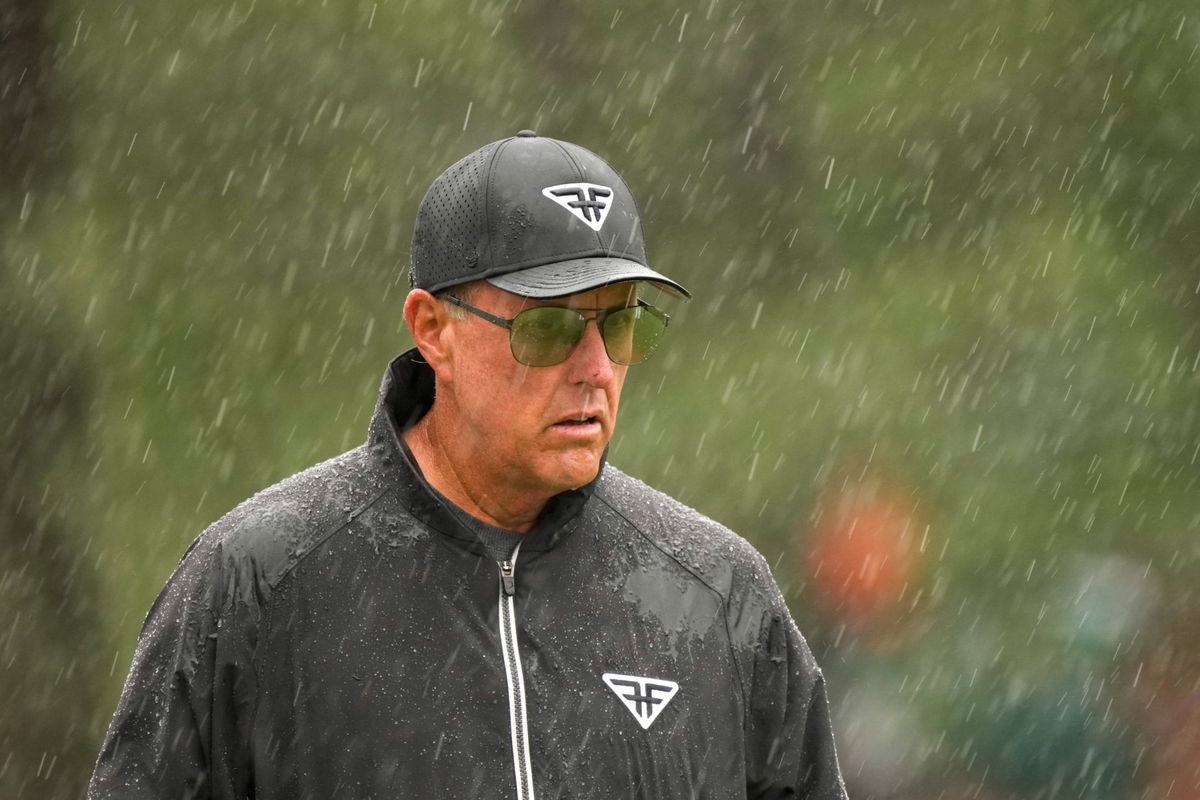 Along with his captivating performances, Phil Mickelson is also widely known for his wars of words with people of the golf fraternity. Mickelson's words have always been bold when it comes to defending his league, and the golfer has never held back. Now what happens when he engages with a person with similar qualities?

Former golfer and current Golf channel analyst Brandel Chamblee, has been in a tiff with the golfer since 2018. But now it seems, their relationship has come to an end. 
The duo engaged in extreme wrath of words with each other days after Brooks Koepka's PGA Championship victory. Although, their story is soon approaching its end now! 
Brandel Chamblee takes a drastic online step against Phil Mickelson on social media
It all started in 2016 when the golf analyst got into an argument with David Duval about Mickelson's and Tiger Woods' contribution to the American team in the 2016 Ryder Cup. At that time Lefty did not pay any attention to the comments. Then in 2018, the former PGA player said that he is not fond of Chamblee because he thinks that the commentator's career is built on "denigrating others." 
Read More: Despite Brooks Koepka Solidifying His Ryder Cup Spot, U.S. Captain Zach Johnson's Reticent Confession Leaves Major Room for Uncertainty Around LIV Golf
The two have been engaged in numerous feuds with each other ever since. Both have called out one another on various occasions. In 2022, Chamblee said that the golfer has been bought for, since he joined LIV golf. He also asked for the veteran golfer to be kicked out of the World Golf Hall of Fame. 
As per the recent scenario, the two engaged in an online feud when Keopka's swing coach, Claude Harmon III, called the commentator a "paid actor" and the 6-time Major champion backed the statement. After Koepka's coach's statement, Chamblee posted a very long tweet calling out the LIV Golf and expressing his feelings about the situation.

The 60-year-old former golfer also invited Mickelson to his live show and discuss the "merits of playing for scary MFers." Phil Mickelson then posted a snip saying that Chamblee has blocked him. 
The snippets of the recent bicker between the two were shared by a popular golf Twitter page, NUCLR GOLF.
The post from the page attracted a lot of fans to drop in their thoughts about the fallout. 
Fans react to the Chamblee – Mickelson Twitter war
Many fans posted a lot of comments under the post. Let us look at what they had to say:
Many fans lashed out at Brandel Chamblee and posted many comments against him:
Many fans came forward to support Lefty and praised him.
Many fans shared how they have been blocked by Mickelson and Chamblee. Mickelson is also quite infamous for growing his block list on Twitter. 
A fan called this whole thing absolutely absurd.
What is your take on Chamblee blocking Phil Mickelson on Twitter? Let us know your take in the comments below.
Watch This Story: Greg Norman's Masterplan Fails to Honor Brooks Koepka, Despite His Ambitious Urge to Make a Statement 
Edited by: