Phil Mickelson Publicly Takes a Dig at Tiger Woods Over Extremely Rare Resurfaced Photo
Published 01/24/2023, 1:17 PM EST

Follow Us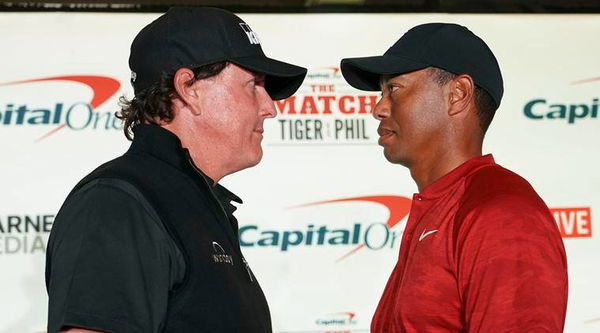 Tiger Woods has been playing golf for decades now. During his career, the G.O.A.T. has been involved in countless squabbles on and off the field. But his most infamous rivalry still includes LIV Golf face, Phil Mickelson. Things seemed to have calmed down between the two recently ever since Mickelson talked about having the utmost respect for Woods. However, Lefty has given a cheeky twist to his dynamics with the golf legend with his recent comment on Twitter amidst other reactions from fans.
Phil Mickelson refuses to identify Tiger Woods in the viral Twitter photograph
Golf insiders on Caddie Network recently posted a picture of young Tiger Woods standing next to a smiling old man. The page asked golf fans to guess who was in the picture hanging at Torrey Pines in the coastal San Diego clubhouse. The picture showed a kid in a yellow T-shirt with 'Tiger' written on it in bold. He can be seen holding a trophy seemingly heavy for him to hold with 'Champion' written on it.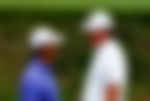 However, when asked to guess who they were, Mickelson chose to play cocky with his response on the picture. Here is what he wrote: "No idea the guy on the right. The guy on the left is "Brownie". I believe John Brown but only ever called him Brownie. He was the godfather of San Diego junior golf and one of the kindest souls who has ever lived."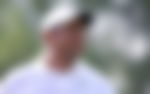 Tiger Woods' Dig At Phil Mickelson Received An Epic 3-Word Backing By Tennis Legend Martina Navratilova in 2022
Well, that's just classic Phil Mickelson a.k.a. golf's prankster. The six-time major winner has had quite a history together with Woods. And despite playing alongside the golf underdog for years, Mickelson refused to identify him in the viral photo. While fans from all across the world have been giving all kinds of reactions to the picture, as well as to Mickelson's comment.
Fans react to viral Woods picture
Golf fans all over the world can easily identify little Woods in the tweet However, they failed to recognize the man next to the golf star. Here is how some of them reacted to it:
But some tried guessing who it was standing beside Woods.
Coming to Mickelson's cheeky comment, fans found it very interesting of Lefty to not identify the legend. And here's how they responded to Mickelson's comment:
Fans have been making things interesting on Twitter for a long time. However, Mickelson's comment was nothing less than a treat for them. Were you able to recognize the man next to young Woods though? Let us know in the comments section!
Watch This Story: Despite Earning Millions More Than Tiger Woods, Phil Mickelson Miserably Deprived of Last Laugh Over His Former Rival
Edited by: