'Ridiculous'- Golf Fans Fume as LPGA Event Makes Disastrous Call to Play Under Blinding Fog
Published 10/07/2021, 2:23 PM EDT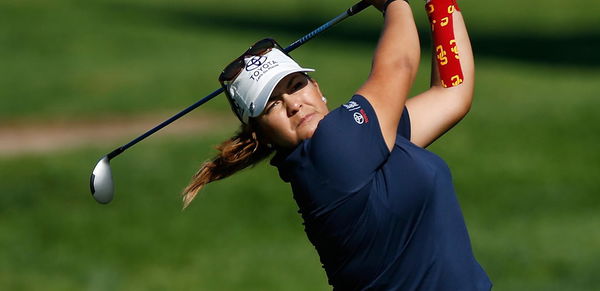 ---
---
Golf is a strategic game, and every shot played is a part of a calculated and measured plan to reach the green. The worst nightmare of a golfer is probably the inability to foresee and prepare for a shot. Nevertheless, that's exactly what happened with Lizette Salas, as she faced fog ahead of her tee off at the LPGA Bank of Hope Founders Cup, 2021.
ADVERTISEMENT
Article continues below this ad
Lizette Salas is an American professional golfer who plays on the LPGA Tour. On opening day at the Mountain Ridge Golf Course in New Jersey, she was part of the first group for teeing off. However, the weather conditions were not favorable. A thick mist covered the course, and visibility was low. Nevertheless, the authorities forced them to tee off.
ADVERTISEMENT
Article continues below this ad
Watch This Story- His Attempt to Recruit LeBron James to the Philadelphia 76ers, Wanting to Date Rihanna and Other Secrets About Joel Embiid You Must Know!
An angry Lizette Salas rants on Twitter about LPGA
The forced tee-off did not sit well with the world number 16. Moreover, after her group had finished the first hole, they decided to postpone the rest of the tee-offs. Annoyed, Salas took to Twitter to complain about the unfairness of the LPGA tour and shared a video to substantiate her claim.
She wrote, "Welcome to the LPGA tour, where we clearly can't see sh*t but yet, they forced the first group to tee off. Then decide to suspend play. wtf."
Fans on Twitter had a bunch of mixed replies to Salas' tweet. Some agreed and questioned the professionalism of the LPGA tour. On the contrary, some were critical of her post and said that it was a part of golf.
A few couldn't decide what the course of action should've been. However, they said that decision should have been fair for all players. Let's take a look at some of the replies.
Sometimes we just forget our privilege. I am the first to be guilty of that. But you totally lose my sympathy to be outraged of golfing in the fog. I will gladly pay someone to leave my job right now to golf in the fog.

— Acadian Ballerz (@acadianballerz) October 7, 2021
@LizetteSalas5 this is wrong that they even made one group Tee off they should have suspended play from the start

— RAY (@Ray9460736) October 7, 2021
If you were in the first group they probably figured it would clear by the time you finished the first hole. #slowplay

— Greg Landers (@Glanders21) October 7, 2021
Why don't they just make you wear a blindfold while you're at it also..JEEZUZ..

— Mr. Pappagorgio (@DavidLBenge) October 7, 2021
Straight as you hit it, should not be a problem.

— KevinL (@ILSwearagin) October 7, 2021
I'm sorry. I hope the tournament goes better than this poor start.

— T. Mashburn (@tamashburn) October 7, 2021
Welcome to every round of golf in the UK between October and May.

— Rich Stephens (@fatelvis2) October 7, 2021
ADVERTISEMENT
Article continues below this ad
Brutal!!

— Alexander Toth – untilthenexttee.blog (@UntilTheNextTee) October 7, 2021
Watch This Story
Although the official decision depends upon the authorities and organizers, there is a lot of confusion about the rules in such situations. However, it is widely agreed that such play can be dangerous since the ball you hit isn't visible.
ADVERTISEMENT
Article continues below this ad
What do you think should be the rules in case of unforeseen fog?