'See This Legend': Golf World Reacts to Latest Viral John Daly Picture
Published 07/31/2022, 4:30 AM EDT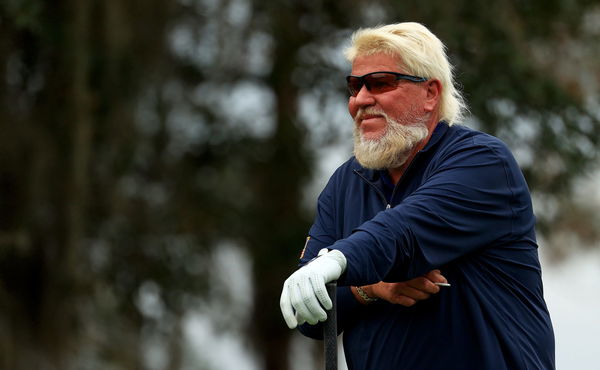 The American professional golfer John Daly recently visited Nottingham. The city of England is famous for its role in the Robin Hood legend. However, the golfer couldn't agree with it and shared a couple of photos on social media to prove it. And his fans are loving it! 
ADVERTISEMENT
Article continues below this ad
"I thought that Nottingham was famous for Robin Hood," the 2-time major champion tweeted. "But that's wrong, it's only famous for @Hooters @Hootersnotts." 
ADVERTISEMENT
Article continues below this ad
Daly is known to be a frequent visitor of Hooters. He also signs autographs and sells merch from a Hooters parking lot during Masters week. Moreover, the golfer and his son, John Patrick Daly, had recently signed with the American restaurant chain and became its official ambassadors. 
The father-son duo signed the deal after they won the 2021 PNC Championship, in which Tiger Woods and his son Charlie Axel Woods won second place. Little John, a collegiate golfer, will star in Hooters' social media campaigns. Meanwhile, his father will sport Hooters apparel and use Hooters orange golf bag with a retro Hooters logo on the Tour Champions events. 
After signing with the brand, Daly visited the chain in Nottingham for the first time. And he found Hooters as one of the landmarks of the England city. 
Fans' reaction to Daly's Twitter post 
Daly lives a free-spirited lifestyle. Unlike other athletes, he eats fast foods most of the time and drinks diet coke instead of water. Thus, when a post in which he was seen enjoying the hospitality of the Nottingham Hooters, his fans were more than happy for him. And they expressed it through their comments. 
See this legend not only knows how to play some golf. He also knows how to buy some kick ass sandles. Crocs make some good $&?@

— ryan dillon (@GeoX_LLC) July 30, 2022
Just as I would expect you be…a forever supportive..your son will be our next big golf messiah…looking forward to that.

— Andrew Piggott (@AndrewPiggott6) July 31, 2022
As a man who enjoys the simplest things in life, John Daly can be seen enjoying his time at the American restaurant chain. He didn't get to make a great memory in the UK a couple of weeks ago at the Open. However, his fans loved that he got to make it now!
John Daly couldn't mark his second victory at the home of golf!
ADVERTISEMENT
Article continues below this ad
More than 25 years ago, the American golfer won his first Open title and second major at St. Andrews, Scotland. However, he couldn't recreate the same this year and win its 150th championship title.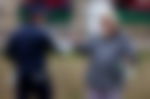 In fact, he could only score 73 and 74 in the tournament and couldn't advance to the final two rounds after the 36-hole cut. He was unable to play through the weekend. However, he could attend the traditions of R&A, including the Celebration of the Champions, in which his team won. 
ADVERTISEMENT
Article continues below this ad
Watch This Story: John Daly Once Made a Fan Pay the Price for Evoking Massive Outrage Down Under
Due to sponsorship or not, John Daly thinks Hooters is the best thing in Nottingham! Do you agree with his opinion?