The Korda Family Slam: A Legendary Feat That Might Never Be Achieved in Sport Again
Published 01/17/2022, 6:30 PM EST

Follow Us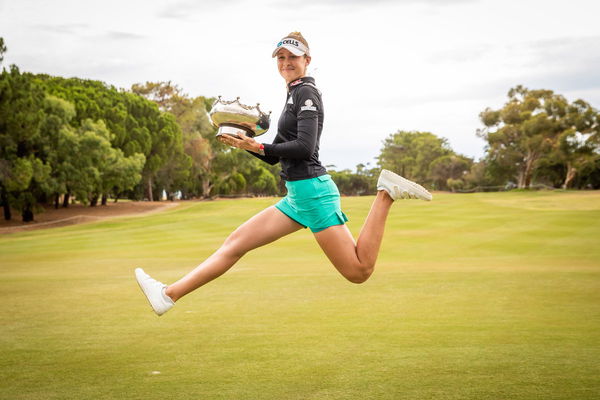 Nelly Korda comes from a family with a deep background in the world of sports. Her father, Petr Korda, was a big star in the world of tennis. His 21-year-old son Sebastian stepped into his shoes and is currently sending ripples through the sport. Her sister, Jessica, much like Nelly herself, is a decorated golfer who plays on the LPGA Tour, one of the best that the country has produced.
However, even though the success of the family needs no more explaining, they boast of a crazy record legacy that they have established. All the four athletes of the family have, in Australia, bagged the highest level title in their sport. Their father, Petr, started it all with his first and last grand slam title that he won in 1998 at the Australian Open.
ADVERTISEMENT
Article continues below this ad
Watch This Story- "Where Is Your Support?": Nick Kyrgios Slams Rafael Nadal and Other Tennis Stars for Not Standing Up for Novak Djokovic
Subsequently, Jessica, in her quest for her first title on the LPGA tour, won the Women's Australian Open in 2012. She won in a stunning 6 side playoff battle, paving the way for her younger siblings to follow suit. In 2018, Sebastian snagged the Australian Open boys title, his junior first grand slam victory, a real step forward in his career.
When Nelly Korda clinched the title to complete a family grand slam
In 2019, Nelly played at the ISPS Handa Women's Australian Open, with no doubt a double agenda on her plate. Moreover, she lived up to the expectations of her family, securing a second title for herself in addition to completing the family Australian grand slam. She finished with a 17-under total of 271, after leading the field since the third day. Defending champion Jin Young Ko finished second, despite playing a final round 64.
ADVERTISEMENT
Article continues below this ad
Her celebration, of course, would have been incomplete without the trademark scissor-kick jump with the trophy! All four of them have a lovely picture in the pose, unique to wins in Australia, no doubt making for a great memory picture for one of the most celebrated sports families in the world!
After winning the second title of her career, where she achieved this spectacular feat, she admitted, "I was playing all day for my parents. I'm really proud of that." Revealing her father's reaction, she said, "He's like, 'Well, congratulations, you're part of the Korda's clan now' So, that was funny." Jessica, ecstatic, congratulated Nelly over the phone by saying, "Welcome to the club!" Sebastian, too, shared the joyous sentiments, as she also revealed.
ADVERTISEMENT
Article continues below this ad
Nevertheless, with many more years left for the three siblings, what do you think the future holds for them? Let us know your thoughts in the comments!