Tiger Woods and Phil Mickelson Hated Each Other. What Changed All of That?
Published 06/19/2022, 6:30 PM EDT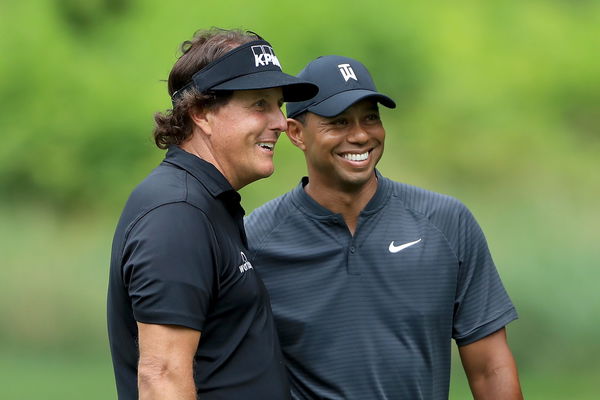 Tiger Woods and Phil Mickelson are two of the most renowned stars in the world of golf. Their friendship has always made the headlines in recent times. However, the two men weren't on the same page always. There was a time when the two close friends were arch-rivals.
Phil Mickelson once talked about his relationship with Tiger Woods and how their rivalry turned into one of the best friendships in Sports. Both men previously hardly hid their hatred for each other.
ADVERTISEMENT
Article continues below this ad
Woods and Mickelson have already publicly criticized one another on multiple occasions. In their early twenties, the two opponents usually squared off in the final rounds of several Majors.
Tiger Woods and Phil Mickelson's rivalry
Both Woods and Mickelson had earned the hype around themselves by the end of their amateur days. By the mid-2000s both golfers were competing for the number one rank on the PGA Tour.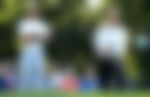 It all started in 1996 when Tiger Woods turned professional. A young Phil Mickelson already had nine wins to his name, while Woods came in and began to take over the PGA Tour with a pair of victories.
Tiger Woods continued to dominate the PGA Tour by winning Major after Major while Mickelson was yet to add a Major to his resume. By 2003, Woods had managed to win eight Majors while Mickelson's drought continued.
Mickelson came very near to winning a Major on numerous occasions but fell short. However, Mickelson won his first Masters tournament in 2004, giving him his first taste of a Major victory. The same year, both men were put in the same team for the 2004 Ryder Cup for two matches that they lost.
Overcoming the Rivalry
Both stars joined forces to compete in several competitions such as the Presidents Cup and Ryder Cup. But their rivalry continued as Woods called Mickelson "Phoney Phil" because of the way he interacted with the galleries, while the 15 time Major winner preferred to stay aloof.
ADVERTISEMENT
Article continues below this ad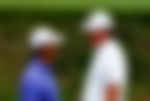 Mickelson claims the rivalry between both men turned into friendship during the 2018 Ryder Cup. He said, "So I've always had this respect for what he's done for me and my family because nobody has benefited more, but I think our relationship turned around in 2016 when we worked together for the Ryder Cup."
Mickelson further said how enthusiastic Woods was during the tournament. He said, "He was an assistant captain, and we ended up spending a lot of time on the phone getting ready, talking about players, picks, statistics, alternate shot, course setup and all these things."
ADVERTISEMENT
Article continues below this ad
Phil Mickelson believed that the shared goal of winning the Ryder Cup is what brought both men together and this is where their relationship took a turning point.
Watch This Story: Tiger Woods Vs. Oprah Winfrey's net worth comparison
Edited By: Manaal Siddiqui